ABM Archive Website
THIS WEBSITE CONTAINS ARCHIVE MATERIALS FOR HISTORICAL REFERENCE ONLY
For up-to-date information, including our latest appeals, news, and resources, please visit our current website.
Paying Tribute to Bishop Ken Mason
January 15, 2019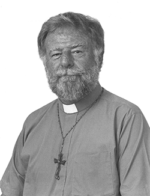 The Right Reverend Kenneth Bruce Mason
4 September 1928 – 20 December 2018
The funeral service commemorating the life, love and friendship of the Rt Reverend Kenneth Bruce Mason took place on Wednesday 9 January, 2019 at 2.30pm. It was held at St James' Anglican Church, the oldest church building in the City of Sydney which has been in continuous use from its consecration in 1824 until the present day.
The pealing of bells were heard on a windy, sunny day as people entered St James' church from the surrounding city streets. Inside, it was close to full capacity with some people having travelled from interstate and perhaps further, to pay their respects to Bishop Ken Mason who passed away on 20 December, 2018, at the age of ninety.
The service was presided over by the Most Rev Dr Glenn Davies, Archbishop of Sydney, with the Rev Andrew Sempell, Rector of St James', celebrating and the Rev John Deane, Executive Director of the Anglican Board of Mission, preaching the Homily. Ms Jacqui Murray and the Ven Keith Dean-Jones OGS, Provincial of the Oratory of the Good Shepherd, Australia, were readers and the Rt Rev Dr Greg Anderson, Bishop of the Northern Territory, the Intercessor.
Bishop Ken's coffin was processed into the church by the ministers of the Eucharist and members of the Oratory of the Good Shepherd, of which he was formerly a Protector General and Superior. Then there was the placing of Christian symbols on the coffin – the sprinkling of holy water, his mitre and stole, a copy of the Scriptures and a crucifix.
Three eulogies were given by people who were close to Bishop Ken: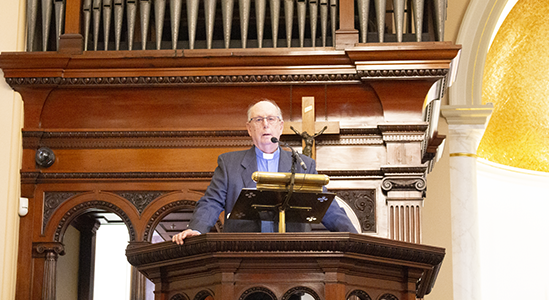 The Rev John Mason
The first was from the Rev John Mason, the younger brother of Bishop Ken, who recounted early childhood memories including the loss of their mother when Ken was about eight years of age. Laughter was shared by the congregation as he recalled how embarrassed he was to find out that his older brother had been assigned to teach his class at school.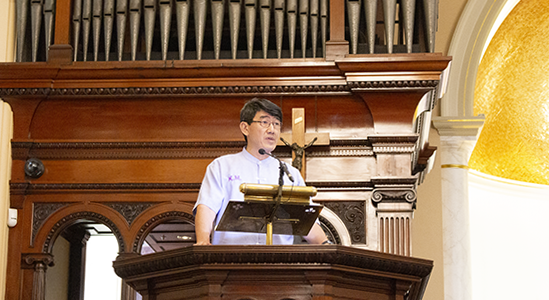 Mr Somporn (Sam) Leelasestaporn
The second tribute was delivered by Mr Somporn (Sam) Leelasestaporn, friend and carer of Bishop Ken for the past fifteen years. He looked up to Ken as his "special father, mentor and friend", a gentleman who taught him valuable lessons in life. Towards the end, Ken had told him that he was not afraid of dying as he was ready for God.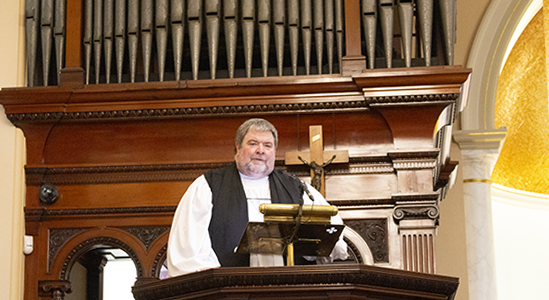 Bishop Garry Weatherill
The third tribute was from Bishop Garry Weatherill, Chair of ABM and Bishop of Ballarat. He used words such as "buccaneer" and "lovable rogue" to describe Bishop Ken. Bishop Garry spoke about the different phases of Ken's life – his years of doing "the hard yards" as a Bush Brother; as Bishop of the Northern Territory to which "extraordinary years brought simplicity and humility as bishop"; his work with Aboriginal communities at a time when the realisation that Indigenous ministry needed Indigenous leadership was just beginning; as a visionary for ABM, looking beyond the familiar ways and encouraging partnership and mission. These were Ken's gifts to the church and celebrated his "amazing capacity for friendship". Ken was "a friend of Jesus who wanted others to share his friendship."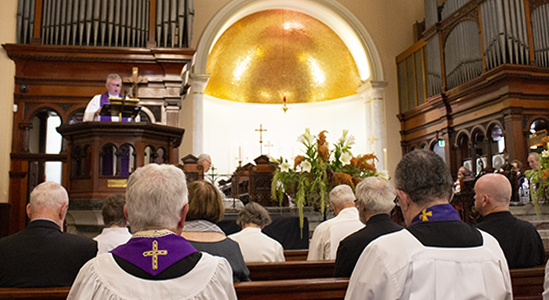 The Rev John Deane delivers the homily.
The Rev John Deane's homily drew on his own personal friendship and experience of Bishop Ken: "His gifts of witness, of bringing light and hope, were many but I would draw attention today to four in particular – friendship, invitation, hospitality, and inclusivity."
Fr John said that Ken's "interest in people often seemed unbounded. He liked meeting and engaging with new people … He made time for you by seeking you out. A missional methodology with biblical precedent, which never seems to fail."
"And once you had been invited, there was always an abundant hospitality. Extending to those around him that sense of being known and of being welcome, the sense that a place was already prepared for you …" [Read the full Homily here]

During the refreshments following the service, ABM asked a few people to share their memories of Bishop Ken:
"There was one time when there'd been a bit of a fracas because people had started demolishing shelves in the library and they hadn't told me so that everything was dusty and a big mess. Ken was actually the one who smoothed everything over and made my position at ABM actually official, not just honorary."
– Graeme Bailey
Further tributes to Bishop Ken may be viewed here
The service was a fitting farewell and celebration of a much loved and respected man, and servant of God. We give thanks for Bishop Ken Mason, a larger than life personality whose kindness, goodness, faithfulness and caring has left an indelible mark on the lives of the many people he encountered throughout his ministry and personal life. May he rest in peace and rise in glory.