ABM Archive Website
THIS WEBSITE CONTAINS ARCHIVE MATERIALS FOR HISTORICAL REFERENCE ONLY
For up-to-date information, including our latest appeals, news, and resources, please visit our current website.
Perth Dinner Church
June 4, 2018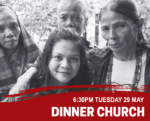 The Perth Committee of ABM were pleased to have a visit from Clagel Nellas – the Executive Director of the Independent Church of the Philippines' development arm (known as VIMROD) and ABM's Education Missioner Brad Chapman.
On Tuesday 29 May Clagel addressed 62 parishioners and friends of ABM at a Dinner Church event hosted by St Andrews, Subaico and shared her perspective on the importance of partnership and community development activities that transform livelihoods and overcome barriers to sustainable development. The event was a huge success, and over $1,000 was raised for ABM to continue their partnership with VIMROD.
On Wednesday 30 May Clagel and Brad attended an independently organised WonTok Youth Poverty and Development Conference at All Saints College Bull Creek. The event, now in its 6th year, has traditionally been organised by ABM and UnitingWorld staff, but this year (due to financial and staffing restraints) a small ecumenical group from WA took the challenge on. The event was attended by 88 students and 11 staff from 9 schools and was well received with 97% of participants saying that they found it to be "very helpful" or "helpful" in understanding challenges around global development and the Sustainable Development Goals.
If you are interested in hosting an independently organised WonTok event, we can highly recommend it, and would be pleased to help answer any questions you might have around the process for doing so – just get in touch!