ABM Archive Website
THIS WEBSITE CONTAINS ARCHIVE MATERIALS FOR HISTORICAL REFERENCE ONLY
For up-to-date information, including our latest appeals, news, and resources, please visit our current website.
Prayer Request from Bishop Mouneer Anis
April 18, 2016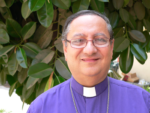 The following request for prayer has been published by Bishop Mouneer Anis, Diocesan Bishop of the Diocese of Egypt with North Africa and the Horn of Africa, and the Primate of the Province of Jerusalem and the Middle East. This is in the wake of violent attacks which occurred in the Gambella region last Friday where, alongside a neighbouring province, more than 284,000 South Sudanese refugees live after fleeing from the civil war in their country.
(From dioceseofegypt.org)
Serious Prayer Request
17th April, 2016
"This morning I woke up to the news that over 160 people had been slaughtered in the area of Gambella, Ethiopia within our Diocese. Many children were abducted, and cattle and food stolen. This news came from Rev Dr Johann W H van der Bijl, Dean of our St Frumentius' Anglican Theological College, Gambella, Ethiopia. The fear is that this conflict may escalate and spread.
"Please pray for safety and wisdom for Bishop Grant and Rev Johann and all staff in the Anglican center and the churches of that area. Pray also for the people of this very inflamed region."
Bishop Mouneer
Update – according to Reuters, the death toll has risen to over 208 people with 75 wounded, 108 children abducted and 2,000 head of livestock stolen. Please keep them in your prayers.