ABM Archive Website
THIS WEBSITE CONTAINS ARCHIVE MATERIALS FOR HISTORICAL REFERENCE ONLY
For up-to-date information, including our latest appeals, news, and resources, please visit our current website.
PRAYER SUPPORT FOR THE PEOPLE OF MYANMAR
March 24, 2021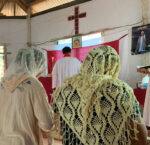 Like others around the world the Anglican Board of Mission was profoundly saddened to learn about the Myanmar military taking control of government on 1 February 2021 and abandoning the country's path to full democracy. At the time, phone lines were cut but the internet remained connected. Since then communication has been sporadic with phone lines and the internet sometimes working, sometimes not.
On the day of the coup, the Archbishop of the Church in the Province of Myanmar (CPM), the Most Rev Stephen Than Myint Oo, requested CPM staff to restrain themselves in using social media with messages critical of the situation. Instead, His Grace asked the church to be calm and pray that the situation may improve. Since then, however, the situation has worsened with the ongoing killing of protesters.
The United Nations now estimates that at least 200 people have been killed in Myanmar since security forces cracked down on peaceful demonstrators.
The Church of the Province of Myanmar had its beginnings when the Church of India, Burma and Ceylon was established in 1813. On 28 August 1966 Bishop Francis Ah Mya became the first native bishop in the country and four years later the Church became an independent Anglican province.
Today the Church is made up of six dioceses (Hpa-an, Mandalay, Myitkyina, Sittwe, Toungoo and Yangon) and two missionary dioceses (Pathein and Pyay, both recently carved out of Yangon Diocese). The Archbishop is also Bishop of Yangon.
ABM's work with CPM began about thirty years ago. And in the last fifteen years or so, because of generous supporters throughout Australia, we have been able to support CPM through our Church to Church and Community Development programs in a variety of ways – from small-scale projects such as Motorbikes for Mission, textbooks for discipleship training, and hymn books in Burmese and Karen languages, to transformative, large ongoing projects such as Church Capacity Development, Sustainable Agriculture, and Water and Sanitation.
ABM is continuing to send project funds to the church in Myanmar as and when we are able.
ABM has also conducted several pilgrimages to church projects in Myanmar, the most recent of these in early 2020, just before COVID-19 hit.
Of the current situation, Australia's Minister for Foreign Affairs, Marise Payne, said in a recent statement, "We continue to strongly urge the Myanmar security forces to exercise restraint and refrain from violence against civilians.
"Australian Professor Sean Turnell has been detained with limited consular access for over 30 days. We call for the immediate release of Professor Sean Turnell, State Counsellor Aung San Suu Kyi, President Win Myint and others who have been arbitrarily detained since 1 February".
The Australian Council for International Development (ACFID) of which ABM is a member, has written to the Minister for Foreign Affairs, calling for diplomatic recognition of the democratically elected government, and for financial sanctions to be placed on the military regime. ACFID has also asked for an increase in development assistance from Australia to those Myanmar organisations supporting people affected by the civil unrest, for prioritising of asylum seekers from Myanmar, and for an extension of existing visas of all Burmese people in Australia.
The Myanmar Council of Churches released a statement calling for release of the President of Myanmar U Win Myint and State Counsellor Daw Aung San Suu Kyi. It also urges a spirit of reconciliation, and for all to be treated equally. It asks people of all faiths to pray for the peace, development, justice and hopes of all the people of Myanmar.
There are reports that some parts of the country are now under martial law. The impact of the civil disobedience movement is starting to be seriously felt as people are unable to access their own monies from banks and financial institutions, and protests are hindering economic activities. There is urgent need for money to buy basic food items. ABM was advised that $50 would feed a family of four for two weeks and we are seeking to raise funds and find a way to send these funds to the church as soon as possible. It is also critical for people to have money for phone credits – with phone charges for domestic and overseas calls expected to shoot up as internet connections are now being cut for longer periods of time.
ABM will be posting a prayer for the people of Myanmar each Sunday morning on our FaceBook page. Many parts of CPM are praying between noon and 1.00pm their time each day (which is 4.30-5.30pm AEDT, and 3.30-4.30pm AEST after daylight saving ends for us on Easter Day). Join in with them if you can, or else pray at another time of day.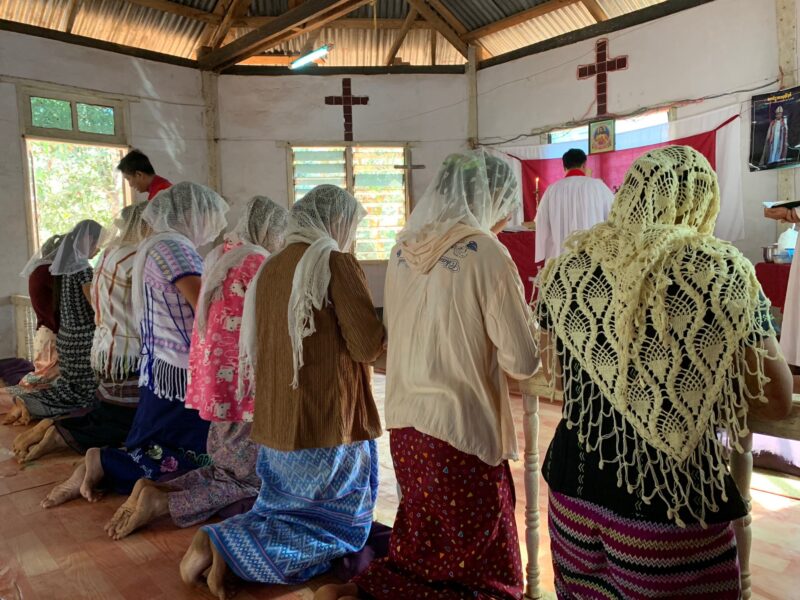 Anglican worshippers in Myanmar © ABM/Lina Magallanes.
We offer the following prayer for Myanmar.
God of the still small voice of calm,
We pray for concord and peace
in Myanmar.
Send your Spirit to console those who whose loved ones
have had their lives cut short
for marching in peaceful demonstrations.
Send that same Spirit into the hearts
of any who are afraid
of what the future might bring.
This we ask through him who is the Prince of Peace,
Jesus Christ our Lord.
Amen.