ABM Archive Website
THIS WEBSITE CONTAINS ARCHIVE MATERIALS FOR HISTORICAL REFERENCE ONLY
For up-to-date information, including our latest appeals, news, and resources, please visit our current website.
Australia:Bishop's Award Program
DIOCESE OF THE NORTHERN TERRITORY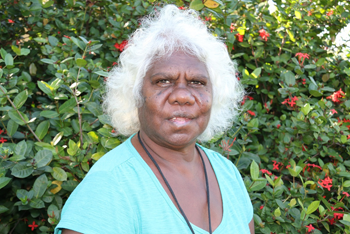 The Rev Lois Nadjamerrek Gunbalanya.
The Rev Lois Nadjamerrek has been faithfully serving her community in the Northern Territory for many years. She has been a Bible translator for three decades and was ordained Deacon and then Priest to serve in the Church of Emmanuel, Gunbalanya, a parish in Arnhem Land.
She has recently been attending a Pastoral Care Course at Nungalinya College, which provides opportunity for input and refreshment in the midst of a life of ministry which involves constant pastoral care and outreach. In a small community like Gunbalanya, premature death is a reminder of the inequity of health and living conditions. Even whilst in Darwin she will attend to many pastoral needs such as hospital visits.
Lois, and others like her are part of the Bishop's Award Program and Clergy Retreats. The Award program is a Christian leadership program focusing on a week of training during the dry season for Christians in leadership across the Territory. The Clergy Retreats are for Aboriginal men and women in ministry in remote communities across the Territory.
A critical role in the success of these programs in the NT is the Ministry Development Officer. The Diocese of the NT needs assistance to keep this role functioning and the amount of $20,000 has been set down to achieve that this year.
The programs encourage education and capacity building for both ministry and employment opportunities in remote Aboriginal and Torres Strait Islander communities.
You can help support this non tax-deductible project and provide encouragement to our indigenous clergy.
AU008BA – The Bishop's Award Program needs $55,000 in 2015
HOW TO DONATE
You can make an online donation to this project by selecting Australia: Bishop's Award Program, Diocese of NT from the full project list.
Alternatively, for donations by cheque/money order (made out to the Anglican Board of Mission – Australia), telephone or email, view contact details here. Please don't forget to include the project name and/or code with your payment details.
Rev'd Anne van Gend speaks about ABM projects in the Diocese of the Northern Territory