ABM Archive Website
THIS WEBSITE CONTAINS ARCHIVE MATERIALS FOR HISTORICAL REFERENCE ONLY
For up-to-date information, including our latest appeals, news, and resources, please visit our current website.
Australia: Bishop's Award Project Update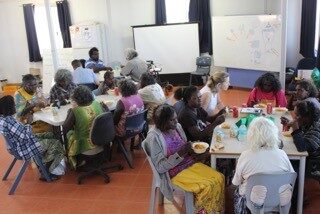 Participants in a workshop for the Bishop's Award Program.
© The Anglican Diocese of the Northern Territory.
This year, the Diocese of the Northern Territory has been trailing a different method of delivery
for the Bishop's Award Program.
Rather than bringing a small number from each church into centralised training in Darwin or
Katherine, this year a team of trainers is going out to each Anglican church community. This
began in August when four diocesan trainers travelled through Numbulwar, Ngukurr,
Urapunga, Kewelyi & Minyerri delivering a two-day training package in the Kriol language. The
program comprised five sessions from 2 Corinthians: 8-9 which aimed to further develop Bible
study skills, provide safe ministry training in a culturally appropriate way, and assist Arnhem
Land parishes to think together about stewardship of God's grace in all its forms. It was hoped
that by providing the training in this way we would give opportunity to younger emerging
leaders, as well as reach a larger number from each community in training. Not only were
these two hopes met overwhelmingly, but by reaching church communities in context, in
language and as a larger cohort, the training is having the opportunity for greater impact.
This same program, delivered in different languages, will be soon be taken to Gunbalanya (in
Kunwinjku language), Bickerton Island (in Kriol, Anindilyakwa and English) and church
communities on Groote Eylandt (in Anindilyakwa).
As you can imagine, delivering the program in this way has been significantly more demanding
on the diocesan trainers! Also, the financial costs of supporting remote Anglican churches and
Christian leaders in this way are very high, owing to vast distances, difficult terrain and
expensive but scant accommodation. There were also some difficulties posed in trying to
deliver this kind of training in such remote and challenging contexts – everything from
malfunctioning equipment to intermittent water supply threatened to derail plans and required
flexibility and a sense of humour from all!
However, high attendance numbers and positive feedback were evidence of very deep
appreciation, with one participant sharing that she had been feeling spiritually weak before the
training, but now she was really happy because she was going away strong in God's love
again. For the trainers, delivering the program this way was also invaluable, providing the
opportunity to learn more about the challenges each leader in each context faces in reaching
the hearts of their community with the good news of Jesus.
Although some senior clergy missed the support of meeting up with their clergy peers from
other communities, they clearly appreciated the fact that no one from their church who wanted
to come to training had to miss out. And to address this need for peer support, the diocese
have planned a clergy conference for later in 2015 which will gather all the clergy from around
the NT.
Rev. Kate Beer
Ministry Development Officer
Anglican Diocese of the NT
September 2015