ABM Archive Website
THIS WEBSITE CONTAINS ARCHIVE MATERIALS FOR HISTORICAL REFERENCE ONLY
For up-to-date information, including our latest appeals, news, and resources, please visit our current website.
Australia:Nungalinya Theological College, Darwin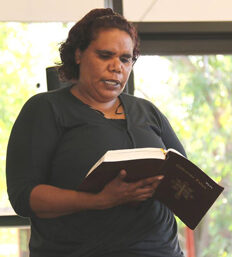 Rita Okai reading Pitjantjatjara Bible
at a Nungalinya daily Chapel Service.
©Nungalinya College 2014
Nungalinya is a Christian College for Indigenous adults seeking to empower Indigenous Christians through education and employment. Courses in literacy and numeracy, media, music and theology are offered with students coming from over 50 different remote communities across Australia.
Leaders of the College have told ABM of the joy it has been for the scriptures to be read in different translations.
"What a joy to have the Pitjantjatjara scriptures read in Chapel this morning by Rita Okai from Central Australia. This is the fruit of just one of many Bible Translation projects still underway across Australia. Please pray for those who are working to translate the entire Bible into Pitjantjatjara – those who are persevering after many years and others who are just beginning new translations."
The theological college is an important ministry to indigenous people as well as being an educational resource. You can support indigenous education by donating to Nungalinya.
This project is tax-deductible.
AU004NG – Nungalinya College needs $49,500 in 2015
HOW TO DONATE
You can make an online donation to this project by selecting Australia: Nungalinya College, Darwin NT from the full project list.
Alternatively, for donations by cheque/money order (made out to the Anglican Board of Mission – Australia), telephone or email, view contact details here. Please don't forget to include the project name and/or code with your payment details.
Images from Nungalinya College
View some wonderful images from Nungalinya College's chapel services held in May this year on their Flickr page.
July 2015 – Special Prayer Points
(Taken from Nungalinya College's Newsletter)
Term 3 is about to begin and that means students are getting ready to travel to Darwin.
This is a complex process with many students requiring a combination of road, sea and air travel to get to the college. Our travel clerk, Karan Moxham, is busy finalising bookings. Our Deans are also busy contacting students to give them their itineraries.
That in itself is difficult as communications with remote communities are quite limited. Sometimes there may be just one phone in the community which may or may not work. Mobile phone coverage is also very limited.
Please pray between now and Monday 27th July that all who are planning to come to college will make their connections and that there will be no obstacles, physical, spiritual and emotional that would affect their ability to travel.
Priest Lady

Yulki Nunggumajbarr was the first traditional Aboriginal woman to be ordained a priest and appointed evangelist in the history of the Anglican Church. ABM travelled to Arnhemland in September 2009 to witness her ordination as well as that of three other Aboriginal clergy.
This documentary reflects upon Yulki's spiritual journey and her calling to serve God. ABM supports Aboriginal and Torres Strait Islander Ministry Development in Australia through various projects and is committed to helping clergy, like Revd Yulki, grow in their ministry and leadership roles.