ABM Archive Website
THIS WEBSITE CONTAINS ARCHIVE MATERIALS FOR HISTORICAL REFERENCE ONLY
For up-to-date information, including our latest appeals, news, and resources, please visit our current website.
NAIDOC Week Celebrations at Gawura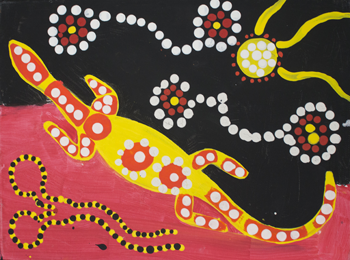 Art work by Gawura student Trangi Speedy-Coe. ©Gawura 2015
Used with permission.
With NAIDOC Week again coinciding with the school holiday (5 – 12 July), Gawura held its own NAIDOC music and awards ceremony in the last week of term to celebrate Aboriginal and Torres Strait Islander identity and culture. This year's National NAIDOC theme is We all Stand on Sacred Ground: Learn, Respect and Celebrate. The theme highlights Aboriginal and Torres Strait Islander peoples' strong spiritual and cultural connection to land and sea.
On Tuesday, 16 June, Gawura recognised each student's achievement at the K-12 NAIDOC Awards and Performance Celebration in the Fairfax Room at St Andrew's House. They were joined by their parents, carers and friends from St Andrew's Cathedral School. It was a great afternoon, the Gawura community gathered with parents and extended family flying in from across Australia. The kids were delighted to get their awards and perform for their parents. Seeing their faces light up when their names are called and waving across the room to their parents so proudly, is always a highlight. Afterwards, there was afternoon tea provided in the Heath Centre. It was a chance for everyone to catch up and celebrate their achievements.
David North, Head of Gawura, always says "it's his favourite day of the year". It is a day that celebrates Indigenous culture, academic excellence, music and dance and it is always a bit of fun.
As part of the NAIDOC week celebrations, Gawura has been asked to exhibit some of their indigenous artwork on Sydney Harbour Ferries. The students worked extremely hard on their artworks; they are full of colour, life and culture.As a sign of respect to the NAIDOC theme the art works symbolise each student's personal connection to the land they travel on every day. They represent their totem, their protector.
So jump on board a Sydney ferry during NAIDOC week (5-12 July) and see the talented artworks the Gawura kids have created!