ABM Archive Website
THIS WEBSITE CONTAINS ARCHIVE MATERIALS FOR HISTORICAL REFERENCE ONLY
For up-to-date information, including our latest appeals, news, and resources, please visit our current website.
Australia:The Rev'd Gloria Shipp & NATSIAC
DIOCESE OF BATHURST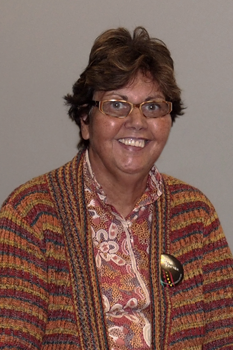 The Rev'd Gloria Shipp.
© ABM 2013
The Rev Gloria Shipp works in the Diocese of Bathurst to support the indigenous community through a variety of ministries such as women's dinners, camps and support to juvenile justice.
Gloria was the first Aboriginal woman to be ordained a priest in the Anglican Church in Australia. She is currently the Chairperson of NATSIAC (National Aboriginal and Torres Strait Islander Anglican Council) and many of her hours are spent with administration and organisation of travel to gatherings and meetings for all other members. Her responsibilities as the NATSIAC Chair are an encouragement to all members across the country and by supporting this project you will contribute to the national Aboriginal community.
Gloria's work of Walkabout Ministries in the Diocese of Bathurst aims to empower people and encourage transformation in lives through fellowships.
She said, "The women's camps are all about renewing your spirit and that's what I have had to do as it gets taken away from us in our busy lives."
Support this non tax-deductible project and assist Gloria to continue to renew the spirit.
AU005DB – Revd Gloria Shipp's project needs $22,000 in 2015

HOW TO DONATE
You can make an online donation to this project by selecting Australia: The Revd Gloria Shipp & NATSIAC from the full project list.
Alternatively, for donations by cheque/money order (made out to the Anglican Board of Mission – Australia), telephone or email, view contact details here. Please don't forget to include the project name and/or code with your payment details.
Project Update
June 2015 – An update from Rev Gloria about the activities this project has helped to fund. Read more.
Renewing the Spirit
The Reverend Gloria Shipp was the first Aboriginal woman to be ordained a priest in the Anglican Church in Australia. In this video, she talks about her life, her spiritual journey and ministry, centered around the Dubbo area in New South Wales.