ABM Archive Website
THIS WEBSITE CONTAINS ARCHIVE MATERIALS FOR HISTORICAL REFERENCE ONLY
For up-to-date information, including our latest appeals, news, and resources, please visit our current website.
Updates from the Rev Gloria Shipp
ELDERS CHRISTMAS LUNCH

The Elders Christmas Party was held on Tuesday 9th December 2014 in Holy Trinity Anglican Church Hall.
The Elders weekly gathering moved from Buninyong Community Centre to Holy Trinity Anglican Church Hall in the first half of 2014. They have continued to meet every Monday and Tuesday during the school terms. The Elders do craft, (some of which they sold at the church fete), have guest speakers, as well as a massage therapist, podiatrist and dieticians. The Elders were all very excited to get shirts with their logo on it.
ORANA JUVENILE JUSTICE CHRISTMAS SERVICE AND GIFT GIVING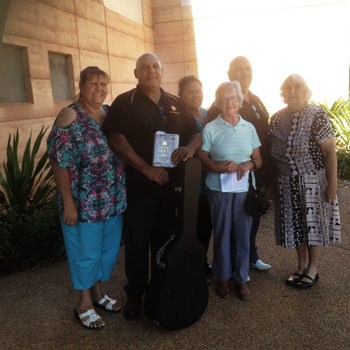 WOMEN'S CHRISTMAS DINNER
The Women's Christmas dinner was attended by 29 ladies on Tuesday 16th December. Our guest speaker was Di McCullough, who gave her testimony and also spoke on Young Life, both of which were very well received by all who attended.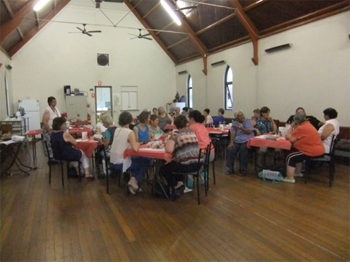 WOMEN'S CAMP 2014
The women returned to "The Springs" this year for their camp.
Workshops at the camp: Robyn spoke on her breast cancer journey and her Aboriginal cancer support group. Clare used parts of nature to talk about our lives and the brokenness we may feel, this led into our Healing dance and service the next day.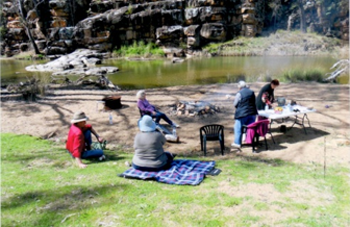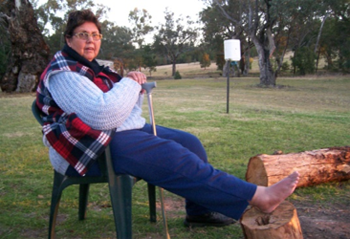 FAMILY CULTURAL CAMP
The Family camp was held at Baiame Cave outside the village of Milbrodale on the 31st October, 1st and 2nd November 2014.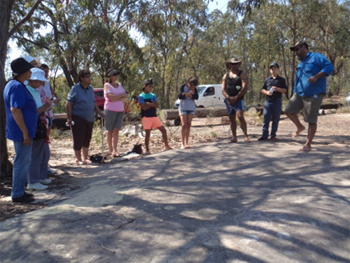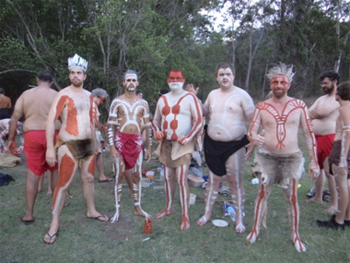 OTHER MINISTRY WORK
Other events we have held throughout 2014 include the Dubbo Rally, Baptisms, Funerals, a Wedding and Women of the Bible afternoon & Outreach Trips.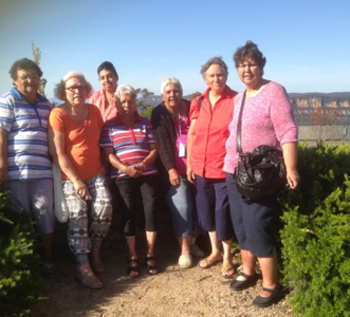 NATSIAC
The NATSIAC Gathering was held in Yamba NSW this year. As well as administration work involved with NATSIAC, I also attended the installation of the Bishop of the Northern Territory.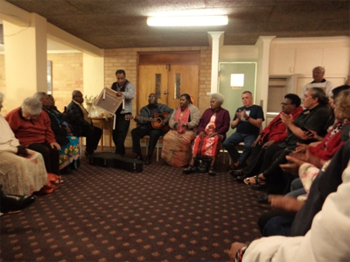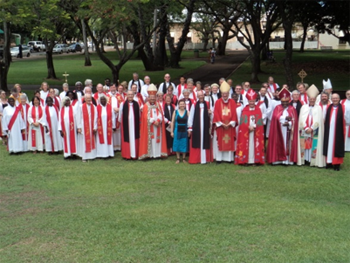 We would like to thank ABM for their support and enabling this Ministry to continue. We hope to have your support both, financially and in prayer in the future.
The Rev Gloria Shipp
Indigenous Ministry Co-Ordinator
NATSIAC Chairperson