ABM Archive Website
THIS WEBSITE CONTAINS ARCHIVE MATERIALS FOR HISTORICAL REFERENCE ONLY
For up-to-date information, including our latest appeals, news, and resources, please visit our current website.
Australia:Wontulp-Bi-Buya College, Cairns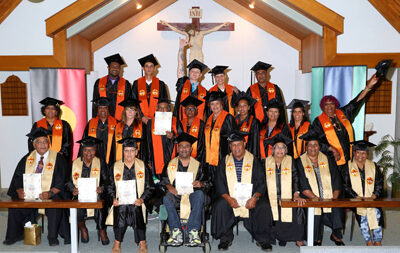 Graduation Day.© Wontulp-Bi-Buya 2014.
The mission of the Wontulp-Bi-Buya College is to equip students through training, to empower them with the necessary skills for them to be effective role models and leaders within their own homes, churches and their communities. Through this empowerment the students also have the opportunity to pursue further higher education or gain employment in their community.
Victor Joseph, the Principal of the College said, "Many students of the College have gone on to study all the courses we offer and they leave a better person than when they were since commencing studies.
"A student from Bamaga [at the tip of Australia] has never had any formal schooling in his entire life. He did not have the opportunity of going to school as he was expected to provide for his family from a young age and spent most of his life working on boats. Now, he can read and write and is proud of the opportunity he was given to come and study at Wontulp-Bi-Buya College."
Victor Joseph also shared, "Another example is of a few students who come from communities where there is no priest but they want to proclaim the Gospel themselves and share the good news of what they are learning here at the College. Some of them travel with their own vehicles over hundreds of kilometers from remote communities just to attend to further their studies."
By supporting this project, you can contribute to these success stories and allow the College to help grow ministry to Indigenous Australians.
AU003WB – Wontulp-Bi-Buya College needs $55,000 in 2015
HOW TO DONATE
You can make an online donation to this project by selecting Australia: Wontulp-Bi-Buya College, Cairns QLD from the full project list.
Alternatively, for donations by cheque/money order (made out to the Anglican Board of Mission – Australia), telephone or email, view contact details here. Please don't forget to include the project name and/or code with your payment details.
Project Update
Long-time volunteer at Wontulp-Bi-Buya College, Joan Sweet, shares her reflections with us about the college and its students. Read more.