ABM Archive Website
THIS WEBSITE CONTAINS ARCHIVE MATERIALS FOR HISTORICAL REFERENCE ONLY
For up-to-date information, including our latest appeals, news, and resources, please visit our current website.
90 Graduates at Wontulp-Bi-Buya College, Cairns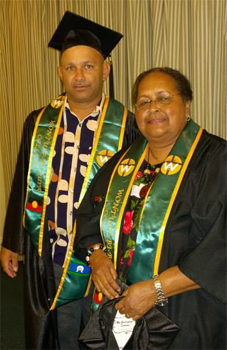 Graduates James Mosby and his aunt
Nazareth Mosby show off their Cert III
Theology and Ministry certificates.
©Wontulp-Bi-Buya 2014
A wonderful night of celebrating 90 Aboriginal and Torres Strait Islander students graduating in five different courses at certificate and diploma levels was held in Cairns on Thursday 6 November 2014.
The night was the culmination of hard work and support of the students by Wontulp Bi Buya College, staff, family and friends. The students came from across many parts of Queensland including the Torres Strait Islands, as well as many other parts of Australia. God was glorified by students, staff and guests in acknowledging the students' and college's achievements.
Dreams were fulfilled on the night, some set a long time ago. Dreams to learn things to take back to their communities to make a positive difference. Certificates 3 and 4 in Addictions Management and Community Development, Indigenous Mental Health (Suicide Prevention) as well as Ministry and Theology, and a Diploma in Ministry and Theology.
There are too many real stories of the very hard situations in First People's communities but this one is definitely a very, very good news story and it was wonderful to be present for the celebration.
One of the teachers, Rev Les Baird, quoted Proverbs in his congratulations speech particularly to the first Graduates of the Indigenous Mental Health course saying that "where there is no vision wickedness abounds", clearly sending them off from the course with vision sharpened and honed for their communities to assist in addressing some of the difficulties.
Please continue to support ABM in the support of Wontulp-Bi-Buya College in Cairns. It is a genuine struggle to maintain funding sources for the College and ABM is committed in the long term so we need your ongoing commitment to achieve that.
Mal MacCallum
Reconciliation Coordinator