ABM Archive Website
THIS WEBSITE CONTAINS ARCHIVE MATERIALS FOR HISTORICAL REFERENCE ONLY
For up-to-date information, including our latest appeals, news, and resources, please visit our current website.
Australia: Hope for Life – Teenage Pregnancy Support Pilot Project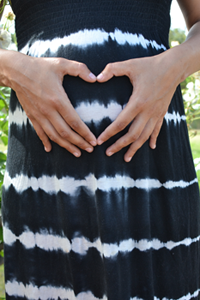 Hope for Life program,
used with permission.
This is part of the Reconciliation Program:
Learn more about ABM's Programs here
Hope For Life is a specialised, early intervention service in Moree, NSW designed to assist teen mothers, particularly Aboriginal teenagers, and their support circle to develop a healthy family environment.
Hope For Life has been running since September 2015 and in the first eight weeks, four referrals were received with six other enquiries and potential referrals. This highlights the strong need for such a service in this community where 6% of pregnancies are amongst teenage girls.
Louise O'Neill is the Team Leader of the project. She is a Moree woman who brings local knowledge and experience to the role. She said, "Our primary referrals have been for indigenous teenage girls. The feedback to date has been extremely positive, some girls have minimal support and Hope For Life is a safe place for them to express themselves and get the extra support they need."
"Hope For Life is servicing a large area with high indigenous populations. The purchase of a car from ABM's support for this purpose has been such an essential part of the program. It has been instrumental in allowing us to travel the distances between the towns to meet with our Hope For Life participants," she said.
"Hope For Life still requires donations to be able to continue servicing the outlying townships and continuing to boost our indigenous teenage girl's self-esteem, self-worth and positive relationships."
Some of the participants are already actively involved and loving time with Louise, covering topics relating to pregnancy, motherhood, relationships, housing, craft and many other things. A second part-time staff member is required to add to this vital work.
Please support this project so that this assistance can continue to be given to young mothers at such an important time in their lives.
AU013HL needs $33,000 in 2016 (non tax-deductible) – this project is currently not available.
PROJECT UPDATE
June 2017 – The team at Anglicare Northern Inland say thank-you to ABM, for all the financial and relational support provided through the "Hope for Life" program over the past year. Read more.
December 2015 – Find some prayer points which you may use in support of this project and an update of the Hope For Life project. Click on this link to download a .pdf copy.