ABM Archive Website
THIS WEBSITE CONTAINS ARCHIVE MATERIALS FOR HISTORICAL REFERENCE ONLY
For up-to-date information, including our latest appeals, news, and resources, please visit our current website.
Australia:Bishop's Award Program
DIOCESE OF THE NORTHERN TERRITORY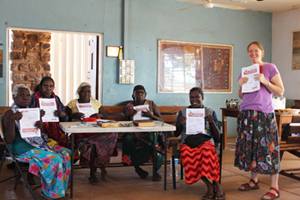 Women from St Matthew's Anglican Church at a
Bishop's Award training event in Ngukurr community,
NT with MDO Kate Beer. © The Anglican Diocese of
the Northern Territory.

This is part of the
Reconciliation Program:
Learn more about ABM's
Programs here
The Bishop's Award program continues to look at opportunities to train Christian leaders from remote areas throughout the Northern Territory.
It is the travel to and from remote communities that is the largest cost. In 2015 a new approach was taken to encourage as many local community leaders as possible to participate in the training.
With a new Ministry Development Officer (MDO) appointment, as well as Bishop Greg Anderson's vision, a small team of trainers go into a number of the remote communities for up to a week to train as many community Christian leaders as possible. This is a change to the last few years when the leaders were brought to a central location for a week of training.
The aim of the new approach is to allow and encourage younger leaders to join in and benefit from the training.
This format began in August 2015 when four diocesan trainers travelled through Numbulwar, Ngukurr, Urapunga, Kewelyi & Minyerri delivering a two-day training package in the Kriol language. The Program comprised five sessions from 2 Corinthians 8-9 which aimed to further develop bible study skills, provide safe ministry training in a culturally appropriate way, and assist Arnhem-land parishes to think together about stewardship of God's grace in all its forms.
Ministry Development Officer, the Rev Kate Beer said, "It was hoped that by providing the training in this way we would create opportunity for younger emerging leaders, as well as reach a larger number from each community in training. Not only were these two hopes met overwhelmingly, but by reaching church communities in context, in language and as a larger cohort, the training is having the opportunity for greater impact."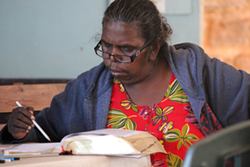 This same program, delivered in different languages, will continue to travel around the large region. Delivering the program in this way has been significantly more demanding on the diocesan trainers. The financial costs of supporting remote Anglican churches and Christian leaders in this way are very high, owing to vast distances, difficult terrain and expensive but scant accommodation. The Rev Beer said, "There were also some difficulties posed in trying to deliver this kind of training in such remote and challenging contexts – everything from malfunctioning equipment to intermittent water supply threatened to derail plans and required flexibility and a sense of humour from all!"
"However, the high attendance numbers and positive feedback were evidence of very deep appreciation, with one participant sharing that she had been feeling spiritually weak before the training, but now she was really happy because she was going away strong in God's love again."
The trainers too benefit from this new delivery method. It provides an invaluable opportunity to learn more about the challenges each leader in each context faces in reaching the hearts of their community with the Good News of Jesus.
Your support of this project will continue to provide training to emerging Christian leaders in remote indigenous communities.
AU008BA needs $55,000 in 2016 (non tax-deductible)
HOW TO DONATE
You can make an online donation to this project by selecting Australia: Bishop's Award Program, Diocese of NT from the full project list.
Alternatively, for donations by cheque/money order (made out to the Anglican Board of Mission – Australia), telephone or email, view contact details here. Please don't forget to include the project name and/or code with your payment details.
Gifts to ABM will be applied to the support of project(s) selected. In the unlikely event of the project being oversubscribed or not proceeding to completion, donations will be applied to a similar project to the one(s) selected.
PROJECT UPDATE
August 2016 – Good news from the Top End! The Bishops Award Program is assisting many indigenous leaders in reaching their local communities with the gospel. Read more.
< Back