ABM Archive Website
THIS WEBSITE CONTAINS ARCHIVE MATERIALS FOR HISTORICAL REFERENCE ONLY
For up-to-date information, including our latest appeals, news, and resources, please visit our current website.
Reconciliation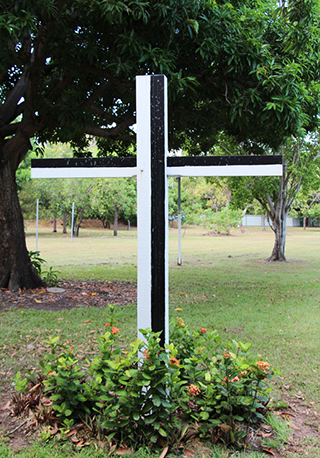 A cross at the Nungalinya College in Darwin.
© ABM/Brad Chapman
This is part of the
Reconciliation Program:
Learn more about ABM's Programs

Reconciliation is central to mission. In an Australian context, reconciliation requires historical acceptance and a willingness to listen to the voices and aspirations of Aboriginal and Torres Strait Islander people. It is a task for the whole of the Church.
ABM has developed a Reconciliation Action Plan (RAP) which guides the seriousness we place on a flourishing Aboriginal and Torres Strait Islander presence in the Australian Church.
Funds donated to the Reconciliation Project help ABM to resource and inspire the Anglican Church of Australia in the journey of Reconciliation. This includes compiling liturgical resources written by Aboriginal and Torres Strait Islander Anglicans; publishing national resources to help Anglicans understand the issues involved with Constitutional Recognition and calls for a treaty; and supporting the ministry and voice of Aboriginal and Torres Strait Islander Anglicans.
AU021RE needs $15,000 in 2017 (non tax-deductible)
HOW TO DONATE
You can make an online donation to this project.

Alternatively, for donations by cheque/money order (made out to the Anglican Board of Mission – Australia), telephone or email, view contact details here. Please don't forget to include the project name and/or code with your payment details.
Gifts to ABM will be applied to the support of project(s) selected. In the unlikely event of the project being oversubscribed or not proceeding to completion, donations will be applied to a similar project to the one(s) selected.
PROGRAM UPDATES
August 2017 – Through the Reconciliation project, Bishop Mark MacDonald of the National Indigenous Bishop of the Anglican Church of Canada, made a recent visit to Australia, to speak about the Reconciliation journey of the Canadian Church. Read more.