ABM Archive Website
THIS WEBSITE CONTAINS ARCHIVE MATERIALS FOR HISTORICAL REFERENCE ONLY
For up-to-date information, including our latest appeals, news, and resources, please visit our current website.
The Rev Gloria Shipp
DIOCESE OF BATHURST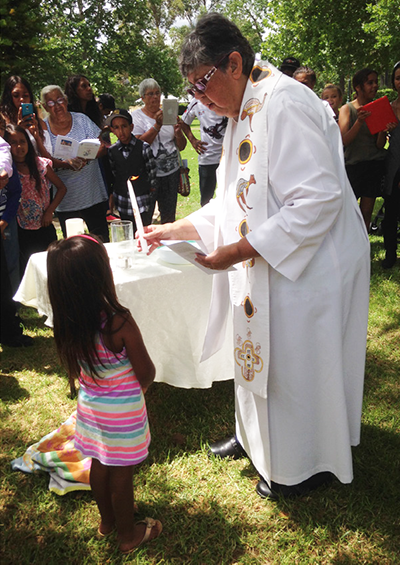 The Rev Gloria Shipp is frequently approached to conduct outdoor
baptisms, like this one where 5 children were baptised.
© Eddie Shipp, 2016.

This is part of the
Reconciliation Program:
Learn more about ABM's Programs


Elder, Pastor, Aunty, Teacher, Chairperson, Chaplain, Friend. The Reverend Gloria Shipp goes by many titles.
Based in Dubbo in Central NSW, the first Aboriginal Woman to be ordained in the Anglican Church of Australia maintains
an active ministry that reaches out beyond the walls of the church to embrace the entire community.
'Jay Jays' is Gloria's affectionate title for the boys and young men she visits twice every week at the Orana Juvenile Justice Centre. With Bible talks, loss and grief workshops, screen printing classes and Sunday services once a month it's no wonder some of the boys nominate their visits from Gloria as a highlight of the week.
While children are so important in Gloria's ministry, their elders are far from forgotten. The Elders' Outreach Group provides a space of community and fellowship every Tuesday during school time in the church hall, and sometimes gathers on Monday in Gloria's home.
Participants look forward to excursions – with Gloria's husband Eddie driving the bus to places like the Wiradjuri Study Centre in Condoblin. Men's camps, women's camps, rallies, reconciliation luncheons, Women of the Bible talks and outdoor baptisms also dot Gloria's year, even before she attends to her national responsibilities as Chairperson of the National Aboriginal and Torres Strait Islander Anglican Council (NATSIAC).
Your support provides a small stipend to Gloria and one day/week of administrative assistance. It also goes towards hall hire, petrol for the mini bus, dinners, rallies, catering and Christmas gifts for the boys at 'Jay Jays'.
AU005DB needs $22,000 in 2017 (non tax-deductible)
HOW TO DONATE
You can make an online donation to this project.

Alternatively, for donations by cheque/money order (made out to the Anglican Board of Mission – Australia), telephone or email, view contact details here. Please don't forget to include the project name and/or code with your payment details.
Gifts to ABM will be applied to the support of project(s) selected. In the unlikely event of the project being oversubscribed or not proceeding to completion, donations will be applied to a similar project to the one(s) selected.
PROJECT UPDATE
December 2017 – The Rev Gloria Shipp recently shared with ABM all the activities and ministries she has been involved with over the past year. Read more.
March 2017 – Last year proved to be a busy and productive year for The Rev Gloria Shipp and her team! ABM recently received an update on all the activities of 2016, along with photos of the major events. Read more.
Renewing the Spirit
The Reverend Gloria Shipp was the first Aboriginal woman to be ordained a priest in the Anglican Church in Australia. In this video, she talks about her life, her spiritual journey and ministry, centered around the Dubbo area in New South Wales.
< Back