ABM Archive Website
THIS WEBSITE CONTAINS ARCHIVE MATERIALS FOR HISTORICAL REFERENCE ONLY
For up-to-date information, including our latest appeals, news, and resources, please visit our current website.
Australia: Aboriginal & Torres Strait Islander Mission Grants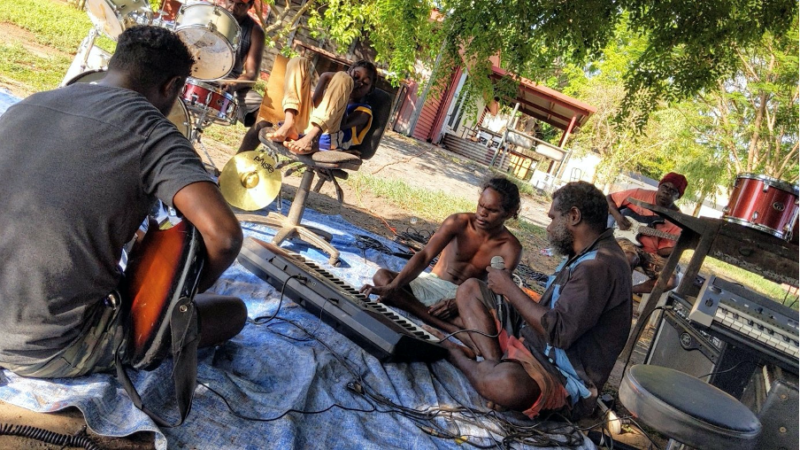 © Diocese of the Northern Territory. Used with permission.
ABM's Mission Grants give Aboriginal and Torres Strait Islander people a say in how funding should be prioritised and directed. The purpose of the grants is to support mission activities that benefit Aboriginal and Torres Strait Islander people. Grant applications which meet the funding guidelines are appraised by members of NATSIAC, the National Aboriginal and Torres Strait Islander Anglican Council.
Grant recipients (preference is given to Anglican Church organisations, or ecumenical initiatives where there is an Anglican connection) are required to provide complete financial reporting and demonstrate how the purpose of the grant connects with the Anglican Communion's Marks of Mission.
Last year the projects included chaplaincy in an Aboriginal school, musical instruments for a new ministry engaging young men in the Northern Territory, funding for an Aboriginal Anglican Leaders conference, help for the establishment of the new Torres Strait Regional Council for the Anglican Church, help for newly established Aboriginal churches, Bible camps, breakfast programs, an event to connect with the families of school children involved in Religious Education, publication of curriculum resources, copies of Kriol prayer books for Aboriginal churches, and help to investigate the viability of a new commercial enterprise for one Aboriginal church.
Your support for the mission grants empowers NATSIAC to direct funding to initiatives which best represent the aspirations of Aboriginal and Torres Strait Islander Anglicans.

» In 2021 Aboriginal and Torres Strait Islander Mission Grants needs $100,000
PROJECT UPDATES
August 2021 – One of the Mission Grants has been used to increase Western Australian Aboriginal children's access to a school counsellor. Read more
HOW TO DONATE

Alternatively, for donations by cheque/money order (made out to the Anglican Board of Mission – Australia), telephone or email, view contact details here. Please don't forget to include the project name and/or code XG015ID with your payment details.
Gifts to ABM will be applied to the support of project(s) selected. In the unlikely event of the project being oversubscribed or not proceeding to completion, donations will be applied to a similar project to the one(s) selected.
< Back