ABM Archive Website
THIS WEBSITE CONTAINS ARCHIVE MATERIALS FOR HISTORICAL REFERENCE ONLY
For up-to-date information, including our latest appeals, news, and resources, please visit our current website.
Australia: Gawura
Let the favour of the Lord our God be upon us, and prosper for us the work of our hands. – (Psalm 90.17)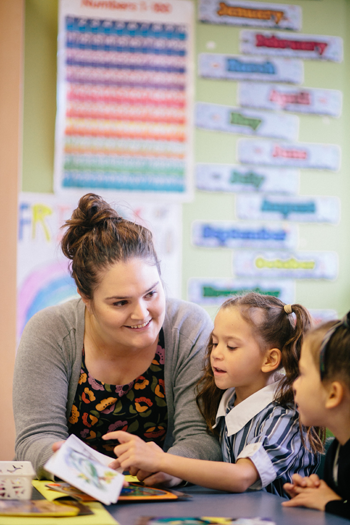 A teacher during morning reading group at Gawura School.

© St Andrew's Cathedral School, used with permission.
Gawura is a unique, coeducational Kindergarten to Year 6 day school for Aboriginal and Torres Strait Islander children who live at home with their families.
Gawura was established in 2007 by St Andrew's Cathedral School in Sydney in response to systemic underachievement and the clear disparity in educational outcomes of Indigenous and non- Indigenous Australians.
The aim of the program is for Gawura students to achieve educational outcomes equal to (or better than) their non-Indigenous peers. Gawura's mission is to break the entrenched cycle of disadvantage experienced by Aboriginal and Torres Strait Islander children by providing them with the best opportunity for educational success and a choice of direction for the future.
Engagement of the Gawura families, parents and carers is critical to the success of the program. With up to 28 students, Gawura is a highly-acclaimed, highly-regarded 'lighthouse' model for Indigenous education, offering students a supportive, nurturing space where they feel secure and learn at their own skill level, participating in individual numeracy and literacy programs. They achieve academic milestones daily and grow in their abilities in academic subjects, sport and the arts.
As students "graduate" from the Gawura primary program, they are offered scholarships at St Andrew's Cathedral School for their secondary education. In 2017, 3 Gawura students completed year 12 at St Andrew's Cathedral School, graduating successfully with the Higher School Certificate.
Your support of this project helps to provide scholarships for Gawura graduates.
AU018SS needs $20,000 in 2019 (tax-deductible)
HOW TO DONATE
You can make an online donation to this project.

Alternatively, for donations by cheque/money order (made out to the Anglican Board of Mission – Australia), telephone or email, view contact details here. Please don't forget to include the project name and/or code with your payment details.
Gifts to ABM will be applied to the support of project(s) selected. In the unlikely event of the project being oversubscribed or not proceeding to completion, donations will be applied to a similar project to the one(s) selected.
project update
July 2019 – Last month ABM was delighted to join in Gawura School's NAIDOC Week celebrations at St Andrew's Cathedral in Sydney. Read more
This short documentary gives a glimpse inside the Gawura campus of St Andrew's School.
< Back