ABM Archive Website
THIS WEBSITE CONTAINS ARCHIVE MATERIALS FOR HISTORICAL REFERENCE ONLY
For up-to-date information, including our latest appeals, news, and resources, please visit our current website.
Celebrating NAIDOC Week at Gawura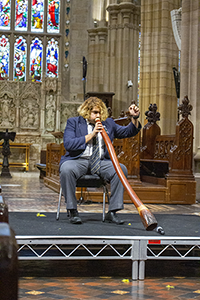 Izak plays the didgeridoo.
On Monday 24 June, 2019, Gawura School held NAIDOC Week celebrations at St Andrew's Cathedral in Sydney. NAIDOC Week falls between 7 – 14 July during the school break so these festivities are held earlier on.
ABM was delighted to be invited to join with the staff, students and parents for this special day where the students of Gawura performed songs, dances and told stories from the Dreamtime.
Special guests were Uncle Alan who opened with the Welcome to Country, and Aunty Norma Ingrim, the first Indigenous person to graduate from Harvard in 1985. She encouraged the children to enjoy school, and spoke about the importance of education as well as having a voice in parliament.
The school also paid tribute to Izak, the first Gawura student to have started in kindergarten and gone through to Year 12. It was touching to see the warmth with which Izak is regarded, as a role model for the younger students and as an example of Gawura being a place of opportunity. He is hoping to study medicine so that he can contribute to his community. An interesting fact about Izak is that his Great, Great Grandfather is David Uniapon, the preacher and inventor who we see on the $50 note (read more about Izak here).
Principal John Collier said that Izak "would not be standing next to him if not for donors". ABM is proud to be supporting Gawura School which celebrated its tenth anniversary in 2017. To find out how you can help us continue this inspiring project, please visit www.abmission.org/gawura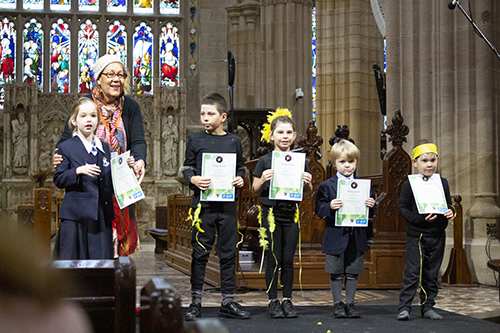 Aunty Norma Ingram celebrating NAIDOC Week with Gawura students.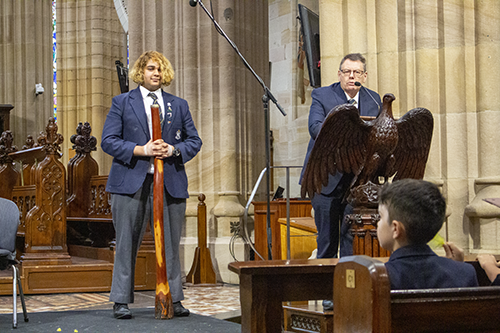 Principal Dr John Collier pays tribute to student Izak who will complete high school this year.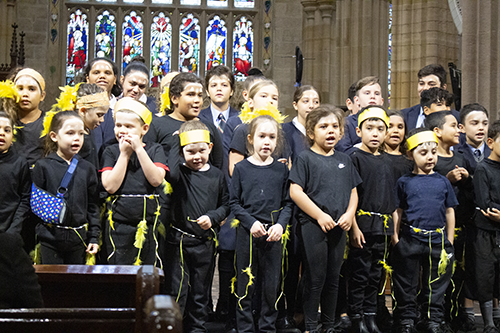 Gawura students performed in St Andrew's Cathedral as part of NAIDOC Week celebrations.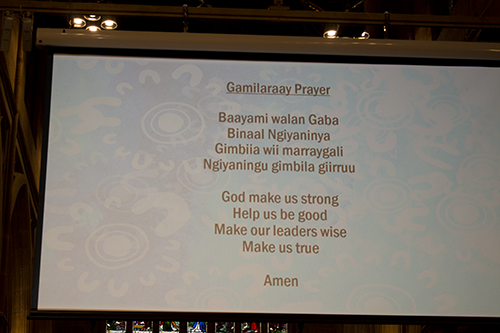 A prayer in Gamilaraay,

an Indigenous

language

from the mid-northwest of NSW.
(Photo credit: Vivienne For/ABM, 2019)
> Back