ABM Archive Website
THIS WEBSITE CONTAINS ARCHIVE MATERIALS FOR HISTORICAL REFERENCE ONLY
For up-to-date information, including our latest appeals, news, and resources, please visit our current website.
GAWURA PROJECT UPDATE JULY 2021
Secondary Students
The latest update from Gawura School (term 2) brings news about how the students celebrated Reconciliation and NAIDOC weeks, a new dance class, and a visit back to the school from Gawura graduate, Rachel, who will be admitted as a solicitor later this year.
Tutoring in the Homework Centre: Tutoring has started in the Homework Centre twice a week. Students have the opportunity to receive assistance in all of their subject areas and tutoring is now offered in English, maths and French. This is provided by HiIQ Tutoring who very kindly are doing this pro bono. We are very grateful for this very generous assistance.
Visits by Former Gawura Students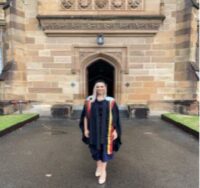 We are also very proud to let you know that Rachel, our former Gawura student who started with her sister in 2007 when Gawura opened, graduated from a combined Arts Law degree, and is now working for the Aboriginal Legal Service. Rachel will be admitted as a solicitor later this year.
Georgia came to our NAIDOC Celebrations and spoke to students to congratulate them on their hard work and to give encouragement. Georgia is in the final year of her PhD.
In other Term 2 activities, secondary students…

… had a cultural learning session from Walanga Muru from Macquarie University.


…attended a cultural excursion to the Dyarubbin Exhibition at the State Library and worked on posters for NAIDOC Week. Some of the secondary students presented these at the Gawura NAIDOC assembly. 

…played a big part in the school Smoking Ceremony on the roof of the school.

…attended the National Reconciliation Week Veterans Commemoration at the Hyde Park Memorial where two of the younger students laid a special floating wreath in the Memorial Pool in honour of Aboriginal and Torres Strait Islander service men and women who fought.

…were visited by members of the ABC Graphics Team who spoke about their work, offered the students work experience and internships, and provided career advice. 

…had opportunities to attend weekly cultural dance lessons with Gawura campus. The dance lessons are taught by Uncle Matthew Doyle. Matthew is a descendent of the Muruwari Nation. He is a dancer, professional musician, composer, choreographer, cultural consultant, and educator, with a passion for passing on language.

Postponement of On Country Trip
Sadly, an On Country trip to Kuku Yalangi Nation due to take place from 11 July was postponed due to COVID-19 restrictions.