ABM Archive Website
THIS WEBSITE CONTAINS ARCHIVE MATERIALS FOR HISTORICAL REFERENCE ONLY
For up-to-date information, including our latest appeals, news, and resources, please visit our current website.
Project Update: Nungalinya College
June 2019
Meet Nungalinya College's New Principal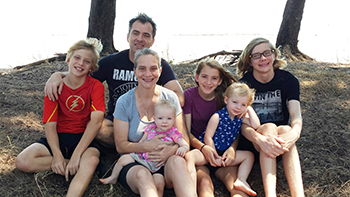 Ben Van Gelderen and family pictured with Nungalinya Rock in
the background. © Nungalinya College.
Ben Van Gelderen has been Principal of Nungalinya College since December 2018, following Jude Long's departure after 8 years in the role.
Ben says that he feels "most humbled but excited" to be taking up the role at Nungalinya College, and that God has both prepared and called him and his family to this ministry.
He says:
"Our family has been in the Territory for the past decade, living at Gäwa (an Indigenous homeland community in Arnhem Land) for a few years and then in Palmerston. We attend Darwin Baptist Church and enjoy the consistent heat and the pace of life that Darwin provides… we have even managed to add two beautiful daughters to our family over the last few years!
"Since we've been in the NT I've worked as a lecturer for remote Indigenous teacher training at Charles Darwin University, English as an Additional Language/Dialect consultant for Catholic Education and teacher at Marrara Christian College and Gäwa Christian School. Prior to this, we lived in Sydney and I worked as a Chaplain and Boarding Housemaster. I have a background in law and linguistics but much prefer teaching and training environments where lives and ideas continually interact, as iron sharpens iron."
ABM's Executive Director the Rev'd John Deane had the opportunity to meet with Ben in May when he was in Sydney visiting with partner organisations.
Nungalinya College and ABM are both committed to partnership and realise the importance of working together to empower Indigenous Christians.
If you are interested in supporting Nungalinya College, please visit the project page here.
For those passionate about the word of God spreading in Indigenous 'heart' languages, Nungalinya College invites you to a conference 'Multiplying the Multitude' on August 27-28, 2019. Find out more here.
(Source: http://www.nungalinya.edu.au/newsletters/)
< Back