ABM Archive Website
THIS WEBSITE CONTAINS ARCHIVE MATERIALS FOR HISTORICAL REFERENCE ONLY
For up-to-date information, including our latest appeals, news, and resources, please visit our current website.
Story Gathering in the Northern Territory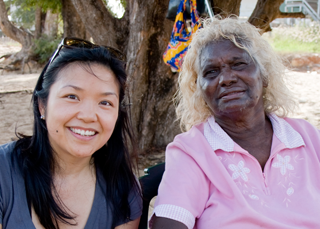 Vivienne with the Revd Yulki Nunggumajbarr.
When I joined ABM in September 2008, I couldn't have imagined that within a year I would be in Arnhem Land as part of a film crew. It was a first for everything, including my first trip for ABM and to the outback. Our crew would witness the first traditional Aboriginal woman to be ordained a priest and appointed evangelist in the history of the Anglican Church.
We flew to Darwin and set off early on Saturday 19 September, arranging to meet up with Bishop Greg Thompson, Revd Neil Forgie and their groups en route to Michael Millar's ordination at Minyerri. To cut a long story short, our rental vehicle broke down; we missed Michael's ordination and spent the night in Katherine waiting for a replacement vehicle. It was a hot, stressful and frustrating experience, and we were all downcast and disappointed. We were anxious that we might miss the Numbulwar event on Sunday. Even though I don"t drink beer, I had to have one at the Katherine pub where the only non-Indigenous person was the Irish bartender!
On Sunday our prayers were answered and we headed off very early in the morning on a 6 1/2 hour drive to Numbulwar. The scenery was amazing and ever changing, with termite mounds, red dirt, flat land, tree covered hills, sparse bush and lush growth around water holes and crossings. Birds of prey soared through the air and kangaroos, brumbies, buffalo, and cattle sprinkled the landscape.
The Church of the Holy Spirit is a simple wooden building with a sand covered floor, quite different to other churches I had been to. It was hot and sunny, and the water off the coast was a brilliant blue. The ceremony began with a procession of visiting clergy, followed by Yulki Nunggumajbarr and other community members walking. The service lasted over two hours and was conducted in both English and Kriol. It was clear to see that Yulki was well loved and respected, both as an elder and as a church leader, by many who were there. It was a privilege to have been present at such a significant event and to have met people associated with her.
After the ordination, about twenty five visitors stayed at the local training centre, so it was a bit of a jostle to get into the kitchen and bathrooms. I had never had the experience of sharing a limited space with so many clergy in their bathrobes and pyjamas but it was a great opportunity for a chat.
Numbulwar was a friendly town, despite the roaming packs of dogs that woke us up every morning with their howling, and alluring blue waters filled with stonefish, water snakes, box Jellyfish and crocodiles!
On Monday morning, we were much more relaxed in the knowledge that the next and last ordination was just a 2 ½ hour drive away at Ngukuur. We interviewed Bishop Greg and took our time before starting off. The road out of Numbulwar was unsealed and had sections of "bull dust" where it was extremely rough and bumpy. We suffered a puncture and sprung into action changing the tyre. We arrived at Ngukurr hot, sweaty, covered in red dirt and frantic with only one hour to spare before the ordination.
Ngukurr was established back in the fifties when the old Roper River mission moved to its present site due to flooding. There was a strong sense of community and many of the locals had gathered at St Matthew"s Church. Andrew and Carol Robertson were both ordained as deacons and it was a joyous occasion for all their families and friends. Indigenous clergy were well represented on the day with the Revd Michael Millar, the Revd Yulki Nunggumajbarr, the Revd Michael Gumbuli and the Revd Peter Gundu amongst the robed clergy. Celebrations took place afterwards under the darkening sky as the children danced, others sat on the grass, a barbeque was lit and the sun set over the Roper River in the distance.
Fr Neil was responsible for much of the organisation and planning, and helped us with accommodation, permits and information. His advice was comprehensive – and ranged from the practical to the cultural. His response to my question about whether there would be many mosquitoes up north was that "the mosquitoes won"t be the only things you"ll have to worry about!"
It had been an enriching and humbling experience for me. After travelling almost 1800kms along those roads, with the difficulties encountered, I could truly see why it was so important to fund fuel
and transport for Indigenous Ministry. Out of the group who travelled there for the ordinations, there were at least six flat tyres, and fuel was extremely expensive. It was inspiring to see too that, even though they face many challenges, Indigenous clergy, like Yulki who is an evangelist and needs to travel for her ministry; persevere and allow their faith in God to carry them through.
Vivienne For
Communications Liaison Officer
September 2009
< Back