ABM Archive Website
THIS WEBSITE CONTAINS ARCHIVE MATERIALS FOR HISTORICAL REFERENCE ONLY
For up-to-date information, including our latest appeals, news, and resources, please visit our current website.
Trip to the Northern Territory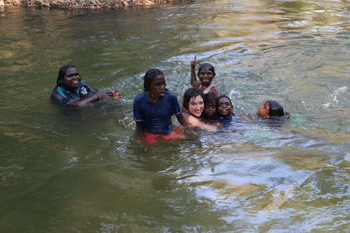 Lee MacCallum with Mandy Sammy and children relaxing at
the Roper River, Roper Valley Kewulyi Community.
©ABM/Mal MacCallum 2015
The Northern Territory (NT) in the "build up" (a term describing the dramatically increasing humidity and temperatures through November toward the wet season) is a challenging place for humans. I had the privilege of sharing a fortnight of it with NT stalwarts recently.
In the first week my wife Lee was able to be with me and we went from Darwin through Katherine and then out on the Roper Highway to Kewulyi (a small Aboriginal community of about 30 people) near Minyerri about 7 hours driving from Darwin. We camped with Mandy Sammy and husband Jo Jo Huddlestone at this small community for a few days. We had air conditioned comfort to get there and electricity to power a fan and fridge whilst there. A far cry from previous conditions endured by the long term residents and the intrepid first missionaries who entered the Roper Valley in the early 1900's. Nevertheless we found it reasonably tough on a daily basis.
In the second week I travelled to Eastern Arnhem Land with Greg Anderson (Anglican Bishop Diocese of the NT), Kate Beer (Ministry Development Officer Diocese of the NT) and Liz McCoy (Theology lecturer for Darwin's Nungalinya Theological College). We visited Bickerton Island and Groote Eylandt again staying in nicely cooled environments.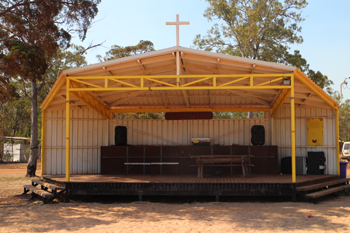 Bickerton Island Community Church.
© ABM/Mal MacCallum 2015
The Northern Territory is a frontier experience and I both enjoyed and was challenged by that. Those choosing to serve God there are to be greatly admired and regularly encouraged for their sacrifice. Those being of that country, the Aboriginal people, are remarkable in adapting to the incredible challenges of climate and environment and now more recently in their incredible history, to adapt to "white fellas" stuff.
The Anglican Board of Mission (ABM) has been a long term supporter of the Christian outreach that has been offered to the true locals from the outset of Anglican mission work across many areas of the Territory.
ABM will continue to do that with a focus on the education of the local people toward knowledge and capacity for their own churches and agencies of sharing the good news of the Gospel in deed and word.
I watched the people I was with span the very obvious challenges of language and culture as much as I have seen in other parts of the world. I believe that mission in the Northern Territory is just like mission to another country and needs to be supported as such. In the fortnight I passed through, I watched locals and committed missioners work in at least 5 vastly different language groups. The incredible challenge of speaking language and providing bible translations hit me very firmly. It is an enormous unfinished task and those in the middle of it do marvellously well despite the challenges. They are friends together sharing life in a very hard place and doing incredibly well. We must continue and increase our support of them.
Groote Eylandt was in the national news the week before I arrived. Sadly due to significant tension (not uncommon in the build-up) between two family groups, two men were speared and died during what was described by the media as a "riot". The community was reeling from the consequences and the local Christian leaders are giving their all to be part of the way forward.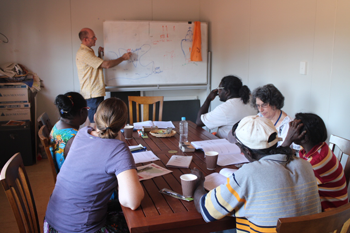 Bishop Greg Anderson at the Christian Leadership Training
on Bickerton Island.

© ABM/Mal MacCallum 2015
As we arrived a very important "old man" passed away and that added another level of stress for the local leaders. He had been a strong leader for most of his life and the loss will be felt for a long time. More so as the community looks at recovery from the "riot". Other ongoing community challenges associated with the isolation and "gaps of disadvantage" imposed increasingly over the two hundred plus years of culture clash are sometimes close to overwhelming for the small group of local leaders and their supporters who I travelled with.
I appeal to all ABM supporters to continue and increase your support of the Reconciliation Program projects in the Northern Territory. It is desperately needed please. I also intend to work through at least one more appeal for commencement in 2016 of support for a significant Diocese of the Northern Territory project so please keep in touch.
Please pray for Bishop Greg Anderson and the team he leads throughout the Northern Territory.
If you would like more information please email me at reconciliation@abm.asn.au.
Yours in Christ,
Mal MacCallum
Reconciliation Coordinator
November 2015
< Back