ABM Archive Website
THIS WEBSITE CONTAINS ARCHIVE MATERIALS FOR HISTORICAL REFERENCE ONLY
For up-to-date information, including our latest appeals, news, and resources, please visit our current website.
Australia: St Andrew's Cathedral Gawura School
DIOCESE OF SYDNEy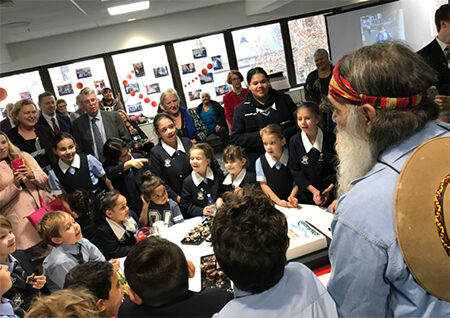 A significant milestone – Gawura celebrated its 10 year anniversary in 2017.
© ABM, Wilnor Flores 2017
This is part of the Reconciliation Program: Learn more about ABM's Programs
Gawura operates within St Andrew's Cathedral School in Sydney and supports young Aboriginal children from the inner city to access quality education in a nurturing environment. ABM is a proud supporter of this program, and we were delighted to celebrate the 10 year milestone of this program in 2017.
During the occasion the Gawura Ambassador, Prof. Larissa Behrendt, spoke of the unique partnership
between the school and the parents of the students, citing these strong relationships as a key to its success. Behrendt also elaborated on the approach taken by Gawura, which actively encourages children to have ambitions and position themselves for success, whilst maintaining a strong grounding in their culture. The aim was to develop students that were "skilled, smart and confident in their identity."
And this approach certainly seems to be working. In recent years more than ten Gawura students graduated from Year 12, and eight of those have now gone on to tertiary education, studying degrees such as Medical Science, Sociology and Law.
Gawura provides quality K to Year 6 education for Aboriginal and Torres Strait Islander children in a caring, Christian environment emphasising standards of literacy, numeracy and social skills that are foundations for life. Places at Gawura are offered as a scholarship which covers the majority of tuition fees and expenses for students who meet the enrolment criteria.
Your generous gift will help Aboriginal and Torres Strait Islander children who complete their primary schooling at Gawura to continue with their secondary schooling at St Andrew's.
AU018SS needs $20,000 in 2018 (tax-deductible)
HOW TO DONATE
You can make an online donation to this project.

Alternatively, for donations by cheque/money order (made out to the Anglican Board of Mission – Australia), telephone or email, view contact details here. Please don't forget to include the project name and/or code with your payment details.
Gifts to ABM will be applied to the support of project(s) selected. In the unlikely event of the project being oversubscribed or not proceeding to completion, donations will be applied to a similar project to the one(s) selected.
Project update
June 2017 – On 22nd June, ABM Church to Church Coordinator, Wilnor Flores, and ABM Project Marketing Officer, Jess Melas, attended the 10 year anniversary celebrations for Gawura School. Read more.
March 2017 – Gawura recently shared some highlights from 2016 with ABM. Read more.
Watch a short feature on Gawura which screened on ABC National News in February 2015: Gawura on ABC National TV. The online story may be found on the ABC website here.
ABM Video: This short documentary gives a glimpse inside the Gawura campus of St Andrew's School.
< Back