ABM Archive Website
THIS WEBSITE CONTAINS ARCHIVE MATERIALS FOR HISTORICAL REFERENCE ONLY
For up-to-date information, including our latest appeals, news, and resources, please visit our current website.
Australia: Gawura School update
June 2017
On 22nd June, ABM Church to Church Coordinator, Wilnor Flores, and ABM Project Marketing Officer, Jess Melas, attended the 10 year anniversary celebrations for Gawura School.
Gawura operates within the St. Andrew's Cathedral school, and supports young Aboriginal children from Sydney's inner city to access quality education in a nurturing environment. ABM is a proud supporter of this program, and we were delighted to attend the special series of events marking this 10 year milestone.
The afternoon began with a traditional smoking ceremony in Sydney Square, held in the shadow of the majestic St. Andrew's Cathedral. Uncle Stephen Williams facilitated the ritual, with Gawura Alumni Ivor Rigney-Sebastian playing an evocative didgeridoo.
Mrs Sharon Minniecon, one of the original founders of Gawura school, delivered a heartfelt address to the audience, which included parents, teachers, supporters and hundreds of students from Kindy to Year 12. She spoke of her joy at seeing the school develop and prosper over the last 10 years, and of the many success stories in the growing alumni crowd. She thanked everyone who had contributed their time, talent and finances, and honoured God for His grace upon all the children who attended. She shared the two key scriptures that guided her prayers for Gawura;
Jesus looked at them and said, "With man this is impossible, but with God all things are possible."
– Matthew 19:26
"Where there is no vision, the people perish."
– Proverbs 29:18
With the ceremony complete, the audience stood and filed into the cathedral for the NAIDOC Celebration Assembly, taking their seats on wooden pews set between elegant sandstone columns, dwarfed by the high vaulted ceiling and beautifully lit by intricate stained glass windows.
Dr John Collier, Head of St. Andrew's Cathedral school and Gawura, opened the assembly by describing the aims and impact of the school, emphasising their common vision to not just close the gap, but stop it completely.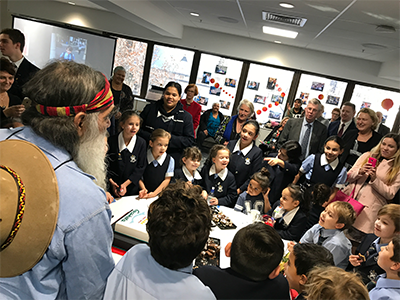 Gawura student celebrate the 10 year anniversary with a song
and cake. © ABM/Wilnor Flores 2017
The Gawura Ambassador, Prof. Larissa Behrendt, spoke of the unique partnership between the school and the parents of the students, citing these strong relationships as a key to its success. Behrendt also elaborated on the approach taken by Gawura, which actively encourages children to have ambitions and position themselves for success, whilst maintaining a strong grounding in their culture. The aim was to develop students that were "skilled, smart and confident in their identity."
And this approach certainly seems to be working. In 2016, ten Gawura students graduated from Year 12, and eight of those have now gone on to tertiary education, studying degrees such as Medical Science, Sociology and Law.
The assembly wrapped up with a play from the primary students, and an award ceremony, which was followed by an afternoon tea and a very large birthday cake.
ABM would like to thank all of our supporters who have generously given to the Gawura school project. Your contributions are making an incredible difference in the lives of these precious children, enabling the best possible start in a life where even the biggest dreams can come true.
> View photographs of the event on Gawura's Face Book page here and a video of the children singing "We are Australian"