ABM Archive Website
THIS WEBSITE CONTAINS ARCHIVE MATERIALS FOR HISTORICAL REFERENCE ONLY
For up-to-date information, including our latest appeals, news, and resources, please visit our current website.
Australia: St Andrew's Gawura School Update
March 2017
The following article offers a brief glimpse into the wonderful activities of 'Gawura in the Secondary' students, that occurred throughout 2016. It was written by Lucy Cook, Director of Development at Gawura.
If you would like to see more stories and photos, please visit the Gawura Facebook page and website.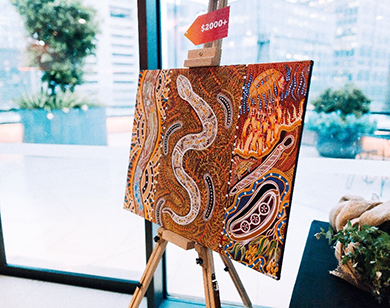 Artwork by Gawura dad, Stephen Green. © St Andrew's Cathedral
School 2016. Used with permission.
"In 2016 we had Gawura 35 students across Kindergarten to Year 12. There were 23 students in Kindergarten to Year 6 and 12 students in the 'Gawura in the Secondary' programme at St Andrew's Cathedral School. Our one and only Gawura student in Year 12, completed her HSC and has already completed an ACCOR Group of Hotels Aboriginal Training programme securing a traineeship at the Qantas Club which she commences in December. The school is super proud of her achievement particularly as her journey through secondary school was a difficult one given the huge gaps in education she had when she started at Gawura in Year 4, 2008.
"There were some significant events held across the school this year which kept many of our Gawura and SACS Secondary students extremely busy. They included the annual Showcase performance at the City Recital Hall, Angel Place consisting of our Secondary School and Junior School Choir and our Junior School and Gawura musical, Seussical the Musical, which was held at the Salvation Army Sydney Congress Hall.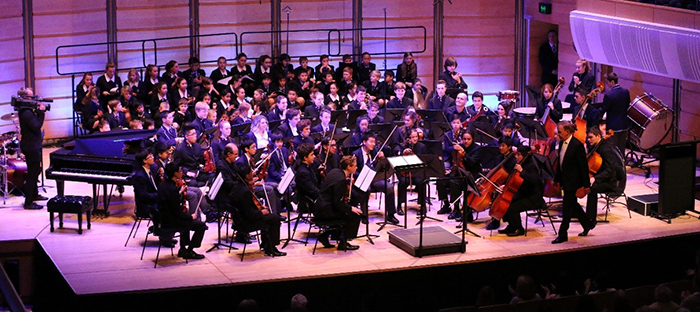 St Andrew's Cathedral School and Gawura – Annual Showcase, Angel Place. © St Andrew's Cathedral School, 2016.
Used with permission.
"There were many special stories in relation to our Gawura students this year and we can't list them all but you might be excited to hear that one of our Senior College Gawura students (Year 11), performed in The Short Black Opera Company's 'PECAN SUMMER', Australia's first Indigenous opera, written and composed by Gawura ambassador Deborah Cheetham AO. The performance also featured two former Gawura students who completed their HSC last year.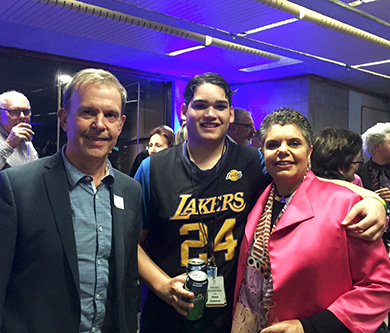 Head of Music Mr Ralph Wilcock together with Gawura student, Keon
and Indigenous Opera Singer, Deborah Cheetham at the Opening
Performance of Pecan Summer at Sydney Opera House.


© St Andrew's Cathedral School, 2016, used with permission.
It was a wonderful performance portraying families who lived on the Cummeragunja mission in 1939 who made history when 200 people of the Yorta Yorta nation left their home in protest of the harsh and inhumane conditions imposed upon them. Our Year 11 student was so inspired by the whole experience, that he is now thinking of studying to become an Opera Singer when he leaves school.
"We would like to thank the Board and staff of the Anglican Board of Mission for another wonderful year of support. You are all providing life changing opportunities not only for our students but also their families. The Gawura teachers and staff and our Gawura Morning Reading Volunteers, witness the growth and change in our students on a daily basis. We continue to feel humbled by the generosity of all our donors who are genuine in their support of Indigenous education and the Gawura programme.