ABM Archive Website
THIS WEBSITE CONTAINS ARCHIVE MATERIALS FOR HISTORICAL REFERENCE ONLY
For up-to-date information, including our latest appeals, news, and resources, please visit our current website.
Australia: The Rev Gloria Shipp
DIOCESE OF BATHURST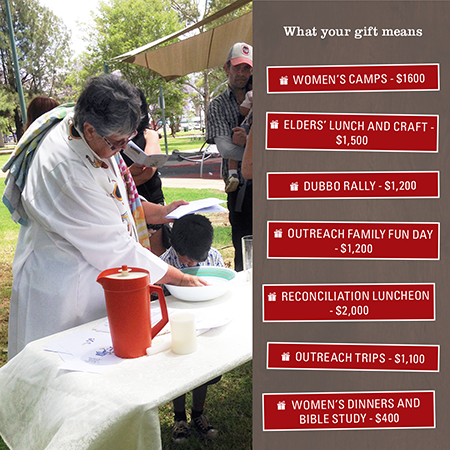 The Rev Gloria Shipp's ministry reaches the whole community.
© Gloria Shipp 2016. Used with permission.


This is part of the Reconciliation Program: Learn more about ABM's Programs

Honouring the work done by the first Aboriginal woman to be ordained in the Anglican Church of Australia, this project allows the Rev Gloria Shipp to maintain an active ministry that reaches out beyond the walls of the church to embrace the entire community.
Gloria updated ABM on her
important work which includes a Reconciliation Luncheon. Powerful impacts are made as is illustrated through feedback from one participant:
"I love the idea of us all being one, no colour or race, we are all equal. God loves us all. I also understood better about the hurt that Indigenous people have gone through. And how it continues through the generations, and how we can all work together to make a difference for future generations. Learning how to let go of the hurt. The ideas shared were very thought provoking, powerful and encouraging."
"Thanks again Gloria, job well done, to you and all your helpers. The dancers were the best I have seen and the food was great as well!"
Gloria's work coordinates powerful activities and brings together people from the Aboriginal community for vital fellowship, learning and sharing. Your gift to this project allows this work to continue.
AU005DB needs $25,000 in 2018 (non tax-deductible)
HOW TO DONATE
You can make an online donation to this project.

Alternatively, for donations by cheque/money order (made out to the Anglican Board of Mission – Australia), telephone or email, view contact details here. Please don't forget to include the project name and/or code with your payment details.
Gifts to ABM will be applied to the support of project(s) selected. In the unlikely event of the project being oversubscribed or not proceeding to completion, donations will be applied to a similar project to the one(s) selected.
Project Update
December 2018 – It's been a busy year for the Rev Gloria Shipp! To view a comprehensive report about her ministry throughout the year, read more
August 2018 – Rev Gloria Shipp gives an update about what she has been up to in the first half of this year. Read more
Renewing the Spirit
The Reverend Gloria Shipp was the first Aboriginal woman to be ordained a priest in the Anglican Church in Australia. In this video, she talks about her life, her spiritual journey and ministry, centered around the Dubbo area in New South Wales.
< Back