ABM Archive Website
THIS WEBSITE CONTAINS ARCHIVE MATERIALS FOR HISTORICAL REFERENCE ONLY
For up-to-date information, including our latest appeals, news, and resources, please visit our current website.
Australia: The Rev Gloria Shipp update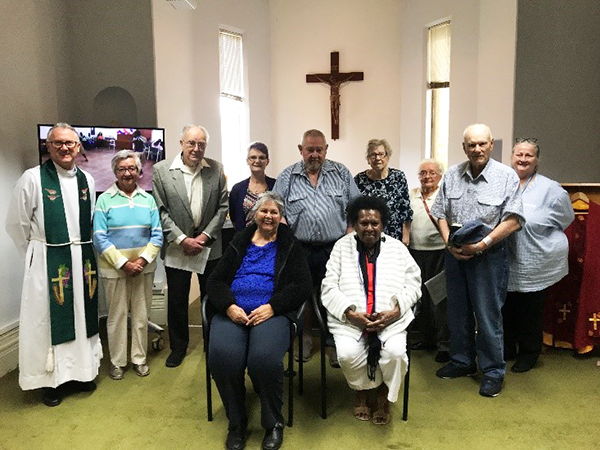 At Holy Trinity Anglican Church in Dubbo:(front row) Rev Gloria Shipp and Rose Elu; (back row) Archdeacon
Brett Watterson, Fay Jorgensen, Col Maunder, Jen Powe, Austin Jupp, Joan Day, Iris Calvert, John Day and
Therese Garnsey. All images © Rev Gloria Shipp, 2018.
December 2018
What a joy it was to receive this latest update from Gloria Shipp about the Walkabout Ministries project in Bathurst Diocese! ABM is proud to support Gloria through the generous donations we receive from parishes and individuals across Australia. We congratulate Gloria and her support team for this wonderful outreach and thank all who donated to this project. May this report gladden your heart as the Walkabout Ministries has gladdened the hearts of those who have participated.
Walkabout Ministries Report 2nd half 2018
The remainder of 2018 continued to be a busy time for the Elders Outreach Group. They have been on day trips to Charles Sturt University, Dubbo High South Campus. We spent time with the Buninyong Migrant group and held a stall at the Rugby League Knockout. They continue to make craft items and sewing. They made a tie and other items for the Duke and Duchess of Sussex on their visit to Dubbo. Members of the group attend Preschool in the park and sewing at the zoo. We have supported the Wellington Elders this year as they have started up their own group, this has been beneficial for both groups. The Elders have been very heavily involved in the community this year as you can see in the attached booklet [Elders Outreach Group 2018 report]. We continue to have health professionals and guest speakers coming to the hall.
Weekly Bible talks, and monthly church services are continuing to be held at the Orana Juvenile Justice Centre. The boys continue to join in with both the talks and services, reading from the bible, asking questions, and seeking answers. I have held a couple of memorial services at the Centre for the boys who have been unable to attend funerals.
On Monday 24th September a group of 18 Torres Strait Islanders, (both adults and youth) from Bamaga arrived in Dubbo. They were joined by the Reverend Lenore Parker from Grafton Diocese. On Monday evening they had dinner with members from Dubbo Anglican Church in the hall.
On Tuesday the group arrived at Dubbo Anglican Church hall in the morning and spent time with the Elders group and Delroy Campus Aboriginal Girls Circle. After this, they were at the Reconciliation luncheon in the hall where we had the largest crowd in years. The group shared their story, sang songs of praise as well as cultural songs, and danced for the attendees. A lot of positive feedback was received on the day and afterwards, regarding the Bamaga group: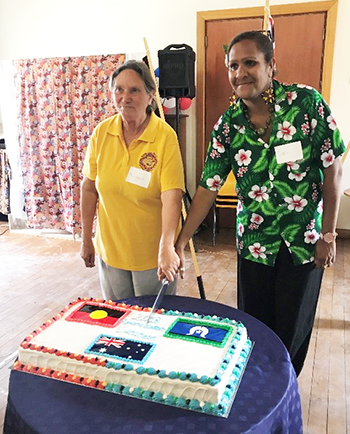 Cutting the cake at the Reconciliation Luncheon.

"Dear Reverend Gloria and all involved in hosting the Elders Outreach Reconciliation Luncheon last Tuesday,
Angus McDonald and I want to say how much we enjoyed that inspiring and uplifting occasion. Thank you for the warm and friendly welcome you all gave us. It was a privilege and fascinating to see the Aboriginal dancers from Dubbo and also the Bamaga group sharing their culture through singing and dance. And so good to talk with some of the Elders from Walkabout Ministries.
The Ngumbaay Aboriginal Girls excelled in catering—a hot cup of tea as soon as we arrived with attentiveness as to whether we would like another—and that delicious and healthy lunch served so graciously and efficiently.
Thank you all for such a memorable occasion with all the work that went into its organisation and preparation.
Best wishes and God Bless to all, Eleanor Lawson. St John's Molong."
"Dear Gloria,
I just want to congratulate you on a wonderful day, today was such lovely entertainment. The meal was very lovely and fresh.The cake was just so lovely and fresh. I just want to congratulate you on a very special day.
Robin Payne"

"A lovely time together thank you. Ken"
Dinner was in the hall with members from the Dubbo Anglican Church Ministry Council.
On Wednesday they travelled to Taronga Western Plains Zoo for an early morning zoo walk behind the scenes, looking at the night areas, followed by breakfast and a visit to the education centre, participating in cultural activities. They were hosted at the zoo by Aboriginal workers. Lunch was held in the church hall and Rose Elu from Brisbane arrived to spend the remainder of the week with them.
In the afternoon some of the adults went out to Orana Juvenile Justice Centre. The group spoke with the boys, sang and shared their culture and love of Christ. The boys enjoyed having them out there.
Dinner was again at the church hall with members from the community and church joining us. Once again there was singing and dancing and sharing of stories and prayer.
On Thursday, the group joined in NAIDOC celebrations with students, staff and community members at Dubbo South High Campus. They spent most of the day here speaking with students and staff, and teaching students some of the dances. The day was a great celebration of culture.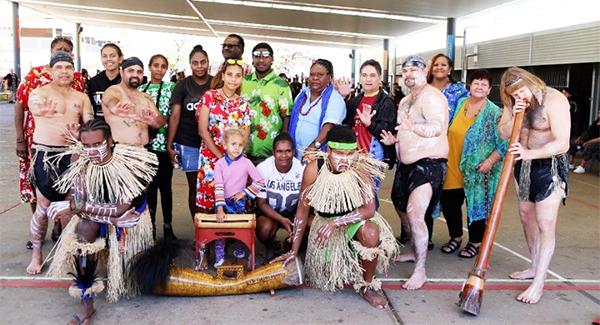 NAIDOC celebrations at Dubbo South High campus.
On Thursday night, they were joined by some of the Elders, Rev Neville Naden from BCA and Kevin Slabb who teaches at Wontulp-Bi-Buyu, for dinner at Sporties Club. After dinner, speeches were made and Kevin spoke to the youth, encouraging them to keep strong in their faith and encouraging them to study at Wontulp-Bi-Buyu. The night finished with singing and prayer.
On Friday morning the group departed Dubbo to travel back home. Rose Elu attended the Friday morning service at Dubbo Anglican Church and spoke on reconciliation and shared stories of her life and faith.
This visit was a great experience for both the Bamaga and Dubbo people, to share their culture and faith with each other. Many people have expressed a wish to have the group visit again for a longer period and visit more schools and groups in the future.
Dubbo Anglican Church held a Ministry Expo in the hall in September. We set up a stall in the hall on Saturday morning for my ministry and NATSIAC. The hall was open after the Saturday night service and then morning tea was held in the hall after both services on the Sunday morning with Jen and I manning the stall to speak with interested people about the ministry.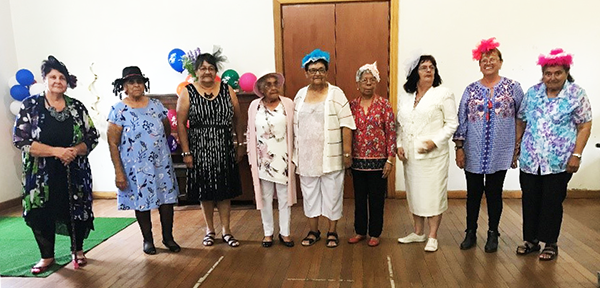 All dressed up for the Melbourne Cup Luncheon!
This year, we held a Melbourne Cup day in the hall for the Elders and community instead of going out for lunch. We were expecting a small group and ended up with over 40 people attending with some members from the church community, who have never joined us before, coming along. The day was a great success with everyone enjoying the time talking and playing games. We have been asked by many people about holding this event again next year.
The events we have held this year have all had a significant increase in the number of people attending. We now have an older couple from the Catholic Church regularly attending our functions. The Christmas party is planned for next week with 48 people having already responded to say they will be attending.
I am still the Chair of NATSIAC and with Jen now being in the Secretariat role, has taken a lot of pressure off myself.
I continue to be thankful for all the support given to this ministry from ABM which enables these programs to continue.
Rev Gloria Shipp
> For more details of the Rev Gloria Shipp's ministry for 2018, you may download a .PDF copy of the booklet Elders Outreach Group 2018 report
If you would like to contribute to the ongoing work of this ministry, you can donate online here.
< Back