ABM Archive Website
THIS WEBSITE CONTAINS ARCHIVE MATERIALS FOR HISTORICAL REFERENCE ONLY
For up-to-date information, including our latest appeals, news, and resources, please visit our current website.
Project Update: Walkabout Ministries – The Rev Gloria Shipp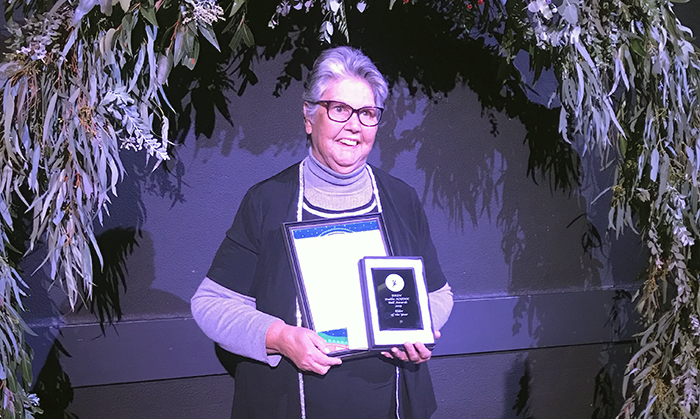 Rev Gloria Shipp shows her Dubbo Elder of the Year Award for 2019. © Walkabout Ministries, 2019.
January 2020
Congratulations, Rev Gloria Shipp, Dubbo's Elder of the Year!
ABM would like to add its warmest congratulations to Rev Gloria for receiving this honour, in recognition of her services to the community. Those of us who know her tireless work on behalf of Aboriginal (and Torres Strait Islander) people of all ages, from the very young to the very old, will wish to join in congratulating Gloria on this well-deserved award. Gloria is a priest who lives her Christian faith to the fullest, following in her every action Christ's command to 'love the Lord your God with all your heart, and love your neighbour as yourself'.
Some ABM supporters will also know that Gloria stepped down this year after nine years as President of the National Aboriginal and Torres Strait Islander Anglican Council (NATSIAC). Rev Brian Kirk has taken over this role. But, true to form, Gloria has taken on the role of Treasurer and Secretary of this organisation which seeks to be 'the primary voice for Aboriginal and Torres Strait Islander Anglicans, promoting Gospel mission, encouraging ministry and generating resources so that we may walk together with God and the wider church' (https://www.natsiac.com/).
ABM is proud to share another report from Rev Gloria Shipp on the important work of Walkabout Ministries:
Walkabout Ministries – Second Half of 2019
Elders Outreach Group
The group continued to meet every Tuesday. They have been involved in NAIDOC celebrations at local schools and in the community. A small group travelled to the Western Sydney Elders Olympics in September and are now looking at maybe holding an Elders Olympics in Dubbo sometime in the future. We continue to make craft items and sewing, and have health professionals and guest speakers coming to the hall. The Elders continue to be heavily involved in the community. The ladies enjoy getting together each week and providing support for each other. The Elders travelled to Wellington on the 3rd December to join with the Wellington Elders Christmas party. We held our own Christmas party on the 10th and invited members of the community and parish to join us.
Orana Juvenile Justice Centre
Weekly Bible talks continue to be held at the Centre, with the boys continuing active participation. I also attend the Centre on significant days and perform memorial services, when the boys cannot attend a family member or friend's funeral. The group from Moree continue to come once a month to the Centre to engage with the boys in prayer/song and sharing, as well as having visits from the Korean youth group from Sydney. Jamie and Adam from Uniting (formerly Uniting Care) go out to the Centre to do cultural activities with the boys.
Sunday School at Buninyong Community Centre
Sunday school slowed down in the winter months, with the flu season and cold weather keeping the kids away. We are having our Sunday School Christmas party in the park in early December.
Women's Camp
The women's camp was held again at Burrendong Dam Holiday Park. We had some new ladies attend the camp this year, with all the ladies having a good time. At the camp this year I held a candle meditation and reflection time which then led into sharing amongst the women, with quite a few finding this very beneficial. Once again, the ladies left the weekend feeling the camp's motto of 'renewing the spirit within' had been achieved.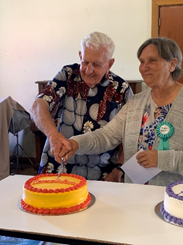 Cutting the Reconciliation cake.
© Walkabout Ministries, 2019.
Reconciliation Luncheon
The Reconciliation Luncheon was held in September in the Holy Trinity church hall. The Ngumbaay Aboriginal Girls Circle from Delroy Campus once again did a wonderful job of meal preparation and serving/clearing. They were supervised by Margaret Pickette, a long-term parishioner at Holy Trinity and one of my spiritual mothers. Jamie and Adam from the Uniting danced, and then Jamie shared his life story. Adam then joined in and both spoke about their work with Uniting, and trips overseas to share their culture with others. Ken Phillis once again kept the crowd entertained as MC on the day.
Blessings, Baptisms and Weddings
I was asked to perform a blessing service for a premature baby, who will come back for baptism later. This was a great privilege. I conducted a wedding in a Dubbo park earlier this month and have another booked in for next year at a Mudgee winery.
NATSIAC
Next year's NATSIAC Gathering will be held in Nelson Bay.
I continue to be thankful for all the support given to this ministry from ABM which enables these programs to continue.
The Rev Gloria Shipp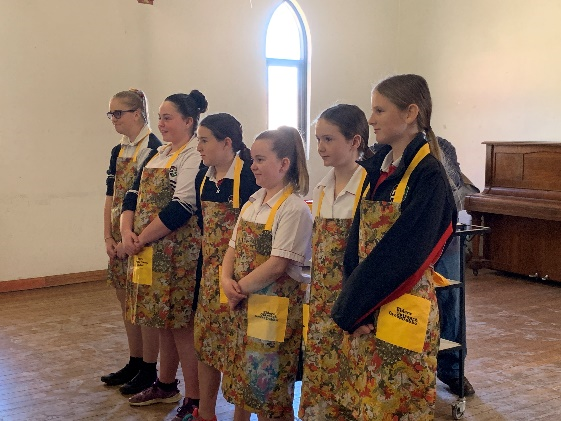 Ngumbaay Aboriginal Girls Circle from Delroy Campus catered for the Reconciliation Luncheon.


© Walkabout Ministries, 2019.
< Back