ABM Archive Website
THIS WEBSITE CONTAINS ARCHIVE MATERIALS FOR HISTORICAL REFERENCE ONLY
For up-to-date information, including our latest appeals, news, and resources, please visit our current website.
Australia: Youth Engagement update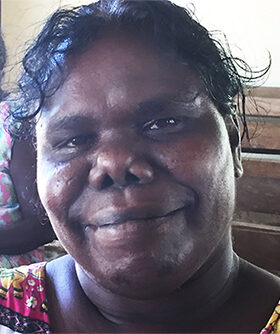 Veronica Wurramurra © Terry McCoy, 2017.
It has been said that the future of our world rests in the hands, hearts and minds of our children. Jesus himself placed great value on nurturing young believers. And this is certainly true for the children in the Aboriginal and Torres Strait Islander communities that ABM partners with. These communities are often more disadvantaged, with lower school attendance and higher incarceration rates. The communities want to break these cycles by engaging their young people more in the church.
In response to this, the Diocese of the Northern Territory wanted to produce culturally relevant Sunday School resources for these communities to use in their existing programs and church services. Now, thanks to the generous support of ABM donors, the communities on Bickerton Island and Groote Eylandt have these resources available for them to use.
Veronica Wurramurra (pictured), a mother of four children, leads kids' ministry activities on Bickerton Island during an after-school club and at evening fellowship. She is very enthusiastic about them:
"I'm so happy you made those new kids' church books! I used them at Bickerton Island and even here on Groote Eylandt and they are really good for the kids".
And it's not just the adults who think these new resources are good, Veronica says the kids responded very positively too: "The kids really like the activities and all the little ones were running to join in!"
ABM congratulates Anne Booth, the Diocese of the Norther Territory Children's Worker, on producing such well received materials. We also wish to thank all our supporters who gave generously to this project.
There is more work yet to be done to ensure these children are given every opportunity to flourish and there are other aspects to the Youth Engagement project that still need further support. You can help our Partners in these remote communities by making a donation towards this project so please donate here.
< Back