ABM Archive Website
THIS WEBSITE CONTAINS ARCHIVE MATERIALS FOR HISTORICAL REFERENCE ONLY
For up-to-date information, including our latest appeals, news, and resources, please visit our current website.
Youth Engagement Update
August 2016
The following update was written by Reverend Kate Beer, the
Ministry Development Officer for the
Diocese of the Northern Territory.
"I write to thank ABM for their support of youth engagement initiatives in the Diocese of the Northern.
One of the main things that the Youth Engagement Grant has enabled has been ongoing support for remote, isolated youth leaders and ministry for young people. The Diocesan Youth Minister works alongside local leaders and emerging leaders in each community, encouraging them as they minister to the young people in their community. These visits to encourage and support youth and youth leaders is vital work, and much appreciated – indeed initiatives such as Yangbala Kemp in the Roper currently still depend on the Diocesan staff for support, advice and expertise.Territory. This grant has enabled a number of ministry strategies that have had a significant impact for reaching and ministering to younger people.
Help with ministry to children is also something church leaders are always asking for. This year, we are looking forward to a children's ministry tour to many of the remote communities. The tour will combine assisting each local church to hold an event for children, with a training afternoon about children's ministry. The tour is being facilitated by the Diocesan Ministry Development Officer, in partnership with Quiz Worx, who are experts in bible-based puppet shows for kids. The children's ministry leaders in each remote church will receive training and then be part of presenting the puppet show, performing their parts of the show in the local language of their community. This initiative has been eagerly received, and many people are looking forward to it!
Another thing that the grant has enabled has been the provision of ministry workshops in remote communities. This has enabled many younger people the opportunity to attend, accessing training and encouragement in their faith. These workshops are conducted bilingually, using the locally spoken Aboriginal language as much as possible in each place. It has been really wonderful to see people so enthusiastic about a workshop that they encourage their kids to come along, as happened in Milyakburra community on Bickerton Island. (picture above)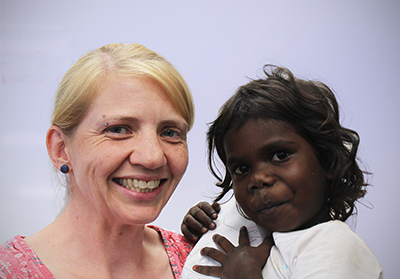 Facilitator Ruth Brigden with little Loralie at the community workshop
One unexpected bonus has also been that these locally held workshops have enabled young mothers to access training and events, even when they have children to care for. Some young mums have only been able to join in for half a day, but have loved the chance to join for what they can, in some cases bringing their kids to the training with them. During this training at Angurugu, young Loralie was delighted by the children's bible we read and discussed as we talked with church leaders about children's ministry ideas.
When participant numbers are so limited by both cost and the challenges of distance travel from remote places, young people are seldom selected by church leaders to go to training or events. One gift of the youth engagement funds has been to enable the Diocese to prioritise some places just for younger people, who may not otherwise have been chosen by their communities. For instance, here at the workshop for translating liturgies into Kriol, some as yet untrained, younger aspiring translators were able to be invited to attend through this funding.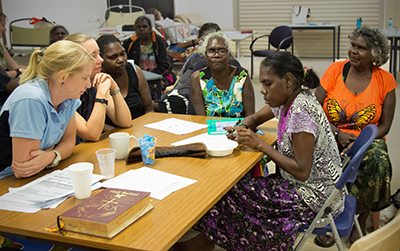 Kriol speakers translate the Bible into their language with young helpers
We hope this glimpse into the impact of the youth engagement funding encourages ABM members about the profound value of their support of this project. It has been a great encouragement in the churches here, and we hope in coming years to continue to be able to partner with ABM, that these initiatives to engage youth in the church and with the good news of Jesus may be extended further, for the glory of God and the benefit of his people."
Yours in Christ
Reverend Kate Beer
Ministry Development Officer
Diocese of the Northern Territory
< Back