ABM Archive Website
THIS WEBSITE CONTAINS ARCHIVE MATERIALS FOR HISTORICAL REFERENCE ONLY
For up-to-date information, including our latest appeals, news, and resources, please visit our current website.
Youth Engagement Update
July 2017
The Ministry Development Officer for the Diocese of the Northern Territory, Rev Kate Beer, recently gave the following update for the Youth Engagement project which is supported by ABM.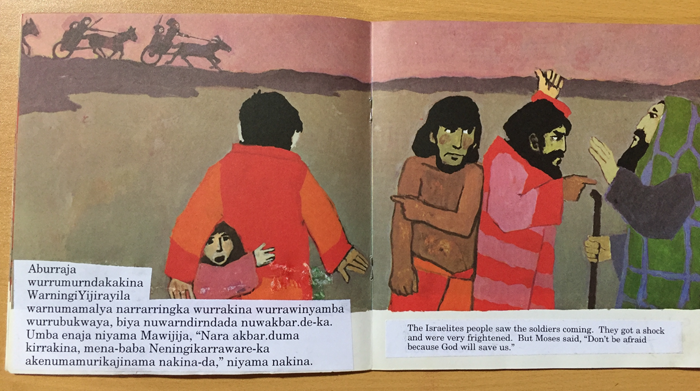 The story of Moses in the indigenous Anindilyakwa language.

© Rev Kate Beer/Diocese of Northern

Territory.
Used with permission.
Bickerton Island
Despite the desire of the many young people gathering there regularly for fellowship, the young church on Bickerton Island struggle with literacy in either Anindilyakwa (the locally spoken language) or English.
This severely limits their ability to read the scriptures or conduct regular church services for themselves. Thanks to the generosity of ABM supporters, the Diocese has been able to support a group of mature believers from Groote Eylandt to travel across to Bickerton every few weeks to help to teach these skills.
It has been wonderful to see the progress of those who have now attended Nungalinya College foundations courses and been followed up with these regular visits. At the most recent visit, we read together the story of Moses. It was remarkable to realise that for some in the group, it was the first time they had ever heard the story of Moses! In addition, we joined in the worldwide movement to pray "Thy Kingdom Come" as we read the part of the gospel of Luke where Jesus taught his disciples the Lord's prayer.
Please continue to pray for those who go to teach and those who gather to learn in the community of Milyakburra on Bickerton Island.