ABM Archive Website
THIS WEBSITE CONTAINS ARCHIVE MATERIALS FOR HISTORICAL REFERENCE ONLY
For up-to-date information, including our latest appeals, news, and resources, please visit our current website.
Australia: Youth Engagement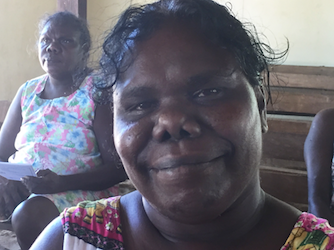 Veronica Wurramurra © Terry McCoy, 2017.
Aboriginal and Torres Strait Islander prisoners account for 27% of the total Australian prison population. Indigenous people are 13 times more likely to go to prison than those who are non-Indigenous, (Australian Bureau of Statistics, 2016).
The National Aboriginal and Torres Strait Islander Anglican Council (NATSIAC) has called for more to be done to care for and support our nation's children, to prevent them from getting into the prison system in the first place.
It has been said that the future of our world rests in the hands, hearts and minds of our children.
Jesus himself placed great value on nurturing young believers.
And so the Youth Engagement Project has been set up to fund Church initiatives which engage young Aboriginal and Torres Strait Islander people.
In the Northern Territory, Aboriginal leaders expressed a desire to try to break some of the destructive cycles they were observing, by engaging their young people more in the church.
In response to this, and with the generous support of ABM donors, the Diocese of the Northern Territory has produced culturally relevant Sunday School resources for these communities to use in their existing programs and church services.
The communities on Bickerton Island and Groote Eylandt now have these resources available for their young people.
Veronica Wurramurra is a mother of four and leads Kids' Ministry activities on Bickerton Island in an after school club and at evening fellowship. She says:
"I'm so happy you made those new kids' church books! I used them on Bickerton Island, and even here on Groote Eylandt and they are really good for the kids. The kids really like the activities and all the little ones were running to join in!"
There is more work yet to be done to ensure these children are given every opportunity to flourish.
Your generous donation will be used for projects across Australia to assist Aboriginal and Torres Strait Islander children and youth.
AU011YE needs $50,000 in 2019 (non tax-deductible)
HOW TO DONATE
You can make an online donation to this project.

Alternatively, for donations by cheque/money order (made out to the Anglican Board of Mission – Australia), telephone or email, view contact details here. Please don't forget to include the project name and/or code with your payment details.
Gifts to ABM will be applied to the support of project(s) selected. In the unlikely event of the project being oversubscribed or not proceeding to completion, donations will be applied to a similar project to the one(s) selected.
project update
May 2019 – ABM recently received reports on exciting work being carried out in the Anglican Diocese of the Northern Territory which aim to increase opportunities for young Aboriginal and Torres Strait Islanders to engage more with church activities and mission. Read more
< Back