ABM Archive Website
THIS WEBSITE CONTAINS ARCHIVE MATERIALS FOR HISTORICAL REFERENCE ONLY
For up-to-date information, including our latest appeals, news, and resources, please visit our current website.
Project Update: Youth Engagement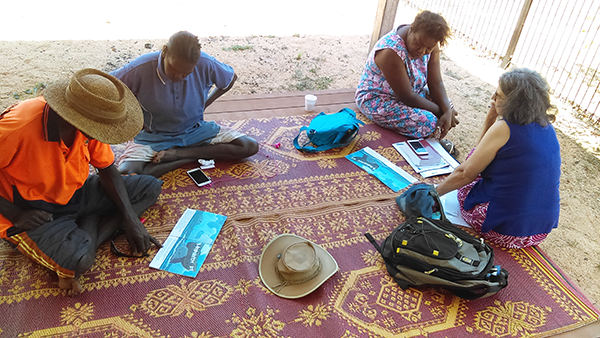 Christians on Bickerton Island reading the Bible Society story books which have had Anindilyakwa text added
alongside the English. © Diocese of the Northern Territory.
The National Aboriginal and Torres Strait Islander Anglican Council (NATSIAC) is passionately committed to providing positive pathways to Aboriginal and Torres Strait Islander youth. One kind of pathway identified by Aboriginal leaders in the Northern Territory is to increase youth participation in the church.
In collaboration with the Diocese of the Northern Territory, ABM is supporting a number of projects which aim to increase opportunities for young Aboriginal and Torres Strait Islanders to engage more with church activities and mission.
We can report that several such projects are already underway for 2019. And one from 2018 has made strong progress.
Bickerton Island
Funds donated by ABM's supporters are enabling mature Aboriginal Christians from Groote Eylandt in the Northern Territory to fly to a newly formed church on nearby Bickerton Island to help them learn to read the Bible in their own language, and to accompany them in doing bible studies. The confidence and capacity of the Christians in reading the Bible has increased markedly since this project began. There was a break in these visits between October 2018 and March 2019, due to the retirement of the community workers on Groote Eylandt. But with new workers starting in March 2019, the visits to Bickerton have re-commenced. Please pray for the Groote Island group and for the young Christians at Bickerton Island as they journey together in the discipleship of our Lord.
Encouraging Young Leaders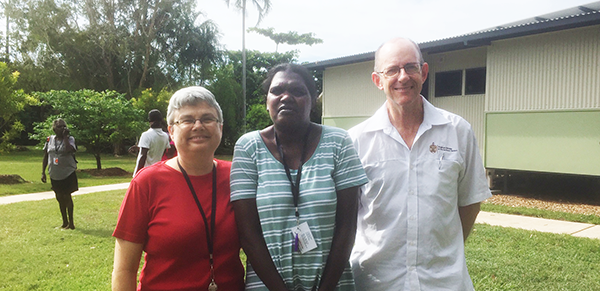 Mrs Annette Anderson and Bishop Greg Anderson with Leander Girrabul at Nungalinya College.
Another important project that ABM partners with the NT Diocese in is to support younger emerging leaders like Leander Girrabul (pictured above). Leander is a Kunwinjku speaker who lives at Gunbalanya. She has begun her studies at Nungalinya College and she aspires to serve more in the church. On her return from College she hopes to get more involved in helping with the growing Sunday school at her local Emmanuel church. There has been a great increase in kids coming to church in recent months, and her minister, Reverend Lois has noticed that Leander has a heart to encourage these young ones, and has been encouraging her to take this step. We ask you to keep Leander, Reverend Lois, and all those who are encouraging her, in your prayers.
Children's Ministry Resources
The dream of this project was to develop a children's ministry resource was aligned with the lectionary readings and could work in churches where English is not the primary spoken language. The materials also needed to be relevant to a multi-age group, since many of the older children may not read English well. The project began strongly, and by February 2018, drafting of the material was well ahead of the timeline. In fact, Anne, the main director of the project, felt things were on track to finish not just material for Year B, but also Year C. As noted in the ABM Project Book 2019, initial trials of the early lessons showed that the material was well received and it was clear that it would be a useful resource from which to build, teach and train young church leaders.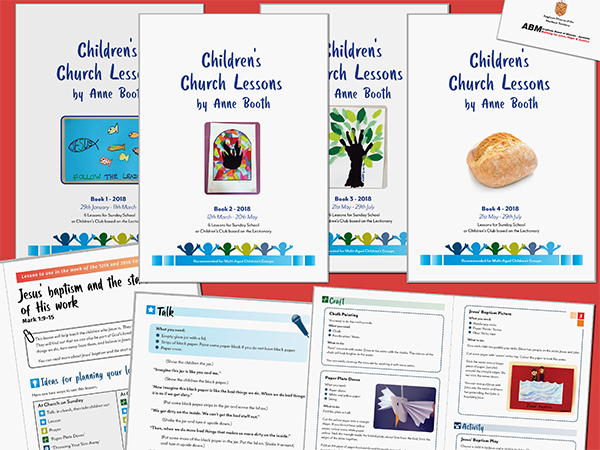 Children's Ministry Materials for Top End remote communities in production.
Sadly, Anne was diagnosed with cancer and underwent treatment, which only ended in March 2019. Another setback occurred when the person in the Diocese who does graphic design was not able to begin this work until later in the year due to an extended absence. At this point, the available material has been put it into four books in draft stage, waiting for Anne to be well enough to check them prior to further printing.
Since the material aligns with the lectionary, the material currently completed will not align with the readings for another couple of years. While completing three years' worth of material is still an important goal of the project, due to this unforeseen illness, completion has been delayed. The Diocese hopes to be in a position to restart this project soon, and ABM will keep you updated regarding the progress of this important resource for young Aboriginal and Torres Strait Islander Anglicans.
Please pray for Anne, and for all involved in the completion of this important project.
< Back