ABM Archive Website
THIS WEBSITE CONTAINS ARCHIVE MATERIALS FOR HISTORICAL REFERENCE ONLY
For up-to-date information, including our latest appeals, news, and resources, please visit our current website.
Australia: Bishop's Award Project Update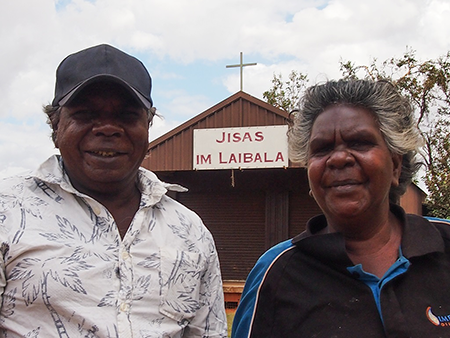 Reverends William Hall and

Marjorie Hall

from Ngukurr
August 2016
Good news from the Top End! The Bishops Award Program is assisting many indigenous leaders in reaching their local communities with the gospel.
Reverends Marjorie Hall and William Hall from Ngukurr joined the program during their journey towards ordination. They appreciated the tailored ministry training sessions, which were held in their own local language. They also talk enthusiastically about some trips they were able to take, allowing them to minister to other remote communities. Rev'd Marjorie and Rev'd William are keen for more opportunities such as these, and highly recommend the course for any Aboriginal leaders considering ordination.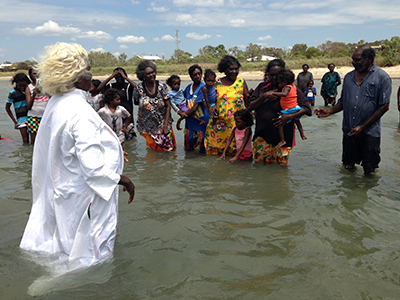 Rev'd Yulki leading a baptism service at Numbulwar

Reverend Yulki of Numbulwar community was also wanting help, to develop special liturgies in her local language. With support from the Bishops Award Program, a member of the Ministry Development team from the Diocese of the Northern Territory was able to assist. Rev'd Yulki was provided guidance in translation and interpretation techniques, and resources to support the work. She was so thrilled with the outcome! Rev'd Yulki reported that the initial service was extremely well received in the local community, and so continues to use what she has developed in her ministry.
Participants at a Kriol speaking liturgy translation workshop in Katherine
< Back