ABM Archive Website
THIS WEBSITE CONTAINS ARCHIVE MATERIALS FOR HISTORICAL REFERENCE ONLY
For up-to-date information, including our latest appeals, news, and resources, please visit our current website.
Australia: Nungalinya update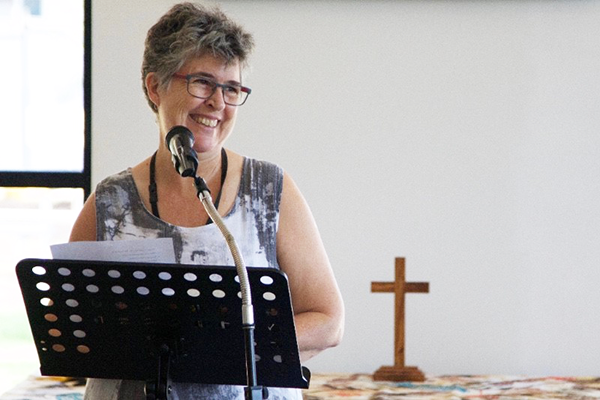 Jude Long. © Nungalinya College 2018
December 2018
Nungalinya College's Principal Jude Long has stepped down after 8 years in her role. ABM gives thanks to God for her faithful service and commitment. We wish her well as she and her family settle down in Melbourne where Jude will be teaching at the Melbourne School of Theology. The college welcomes Ben van Gelderen as he starts work this month as the new Principal. The following comes from Nungalinya College's December newsletter.
Farewell and Thank You from Jude Long
It has been an amazing privilege working as Principal at Nungalinya College for the last 8 years. I can honestly say it has changed my life and I will miss it terribly. I have learnt so much from Aboriginal Christians in my time here and it has enriched and deepened my faith. I have learnt the importance of relationship. Coming from an individualistic Western worldview, I have been challenged by how important relationship is – relationship with God and with each other. The kinship system helps everyone have a place, and when we think about our kinship in God's family it is even more important. I have learnt about the importance of the land. As a person who has moved a lot in my life, I am only just starting to understand what it means to be connected to country. Lastly, I have learned the importance of keeping Jesus central in everything we do. When life is difficult and you are grappling with generational trauma, that personal trust and relationship with Jesus is all that can keep you going.
The faith and hope of Aboriginal Christians in the face of the troubles confronting them gives my life a new perspective. I am immensely grateful to those Aboriginal leaders who have taken the time to teach me, and I am very aware I have so much more to learn.
I also want to thank you for your interest and support. Thank you for praying for me and the College and also supporting us financially. We could not do what we do without you. It truly is a partnership in God's work that we share together. Thank you for the kind words of encouragement that I have received as news of my departure has spread.

What is next? My husband Allan and I, along with our daughter and her family, are moving back to Melbourne. I will be working at Melbourne School of Theology next year and I am excited to have a new opportunity to be teaching and encouraging people in their faith. However, Nungalinya will always have a special place in my heart. I am looking forward to continuing my relationship with the College from the other side, eagerly reading the eNews each month to hear what God is doing.
If you would like to help continue the great work at Nungalinya College, find out more here.
< Back