ABM Archive Website
THIS WEBSITE CONTAINS ARCHIVE MATERIALS FOR HISTORICAL REFERENCE ONLY
For up-to-date information, including our latest appeals, news, and resources, please visit our current website.
Nungalinya College Update
September 2016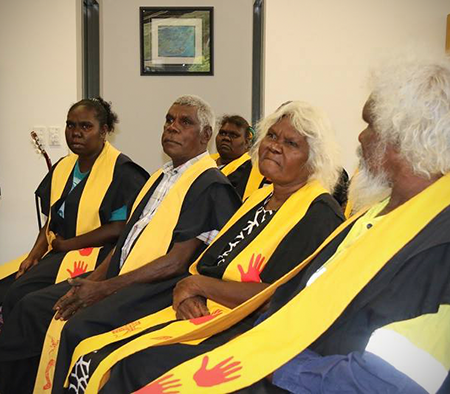 Denis Duncan (second from left) at his graduation ceremony, August 2016
Nungalinya College is now in Graduation Season! Their latest newsletter has described the first graduation ceremony held on the 19th August, and the encouraging stories of two graduates.
The first of these stories is from Denis Duncan of the Urapunga Community.
"My name is Dennis Duncan. I have lived at Urapunga Community since my childhood. My language is Ngandi, my clan group is Nundjipi, and I speak Kriol.
I read the Bible in Kriol and English, pray for healing, and help in the church services and fellowship. I help others get together to pray and worship God.
It was good to come to Nungalinya College because this is where I found the Lord was working in my life through all the good teaching from the teachers. And all the support staff as well. Praise God for the wonderful care they showed us.
As I go back I want to show love and care to my family and all the people in Urapunga. I want to do the things I learned at college. I want to keep going by assisting and encouraging our church leader.
I would like to come back to college to continue to learn to follow Jesus by doing Cert IV."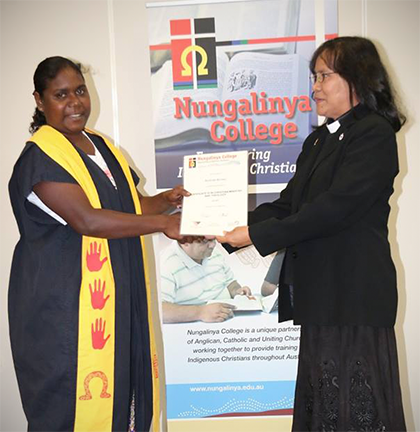 Kylinda Brown receiving her graduation certificate, August 2016
The second story comes from Kylinda Brown from West Arnhem Land.
"My name is Kylinda Brown. I come from the West Arnhem community called Warruwi.
My language is Maung.

My activities at my church are teaching the children to know Jesus and doing actions songs, colouring, reading the Bible and singing songs in language.

Coming to Nungalinya College I learned more about knowing the Lord. It has given me more encouragement to go back and teach my people in my community.

My next step is I'm going back home to help start a movement to lift my church alive and bring my brothers and sisters into the hands of Christ."
Two more graduation ceremonies will also be held in the near future. On the 16th September the students from the Certificate II in Media and Discipleship will graduate, displaying their talents with an accompanying film festival. Then on September 30th, the students from Certificate III in Christian Ministry and Theology graduate, in what is expected to be a big celebration!
ABM would like to join with Nungalinya College in congratulating all the graduates on their achievements, and will be praying for every success in future life and ministry.
Nungalinya College welcomes your prayers during this busy month, as they organise the logistics of coordinating these events. To find out more, please view the Nungalinya College newsletter at;
http://us3.campaign-archive1.com/?u=caa70be2413e89c09385bace3&id=6399bc3818&e=541aeaf13a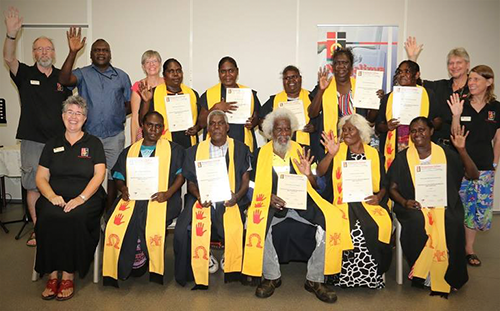 Nungalinya College graduates in August 2016
< Back