ABM Archive Website
THIS WEBSITE CONTAINS ARCHIVE MATERIALS FOR HISTORICAL REFERENCE ONLY
For up-to-date information, including our latest appeals, news, and resources, please visit our current website.
Australia: Wontulp-Bi-Buya College, Cairns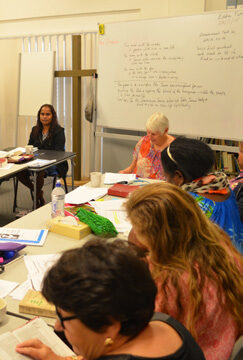 Students gather from all across Australia to
participate in intensive teaching blocks.
© Wontulp-Bi-Buya College, 2016.
Used with permission.


This is an ABM Reconciliation Program:
Learn more about ABM's Programs here
Support Wontulp-Bi-Buya College in its commitment to empower and equip Aboriginal and Torres Strait Islander people with understanding of the gospel through their cultures, empowering them to be leaders with faith, vision and skills, and to be effective in building up their people, their church and their communities.
Wontulp-Bi-Buya offers Aboriginal and Torres Strait Islander leaders courses in the areas of theology, addictions management, community development, and mental health. The college also offers a cross-cultural awareness course for non-Indigenous students.
ABM's Missioner, the Rev Jazz Dow said that on a recent visit to the college she witnessed the transforming work of Wontulp-Bi-Buya.
"It was obvious that the college made a significant difference to the lives of its students, and the students were like family to one another. Students left the teaching block supported, encouraged and equipped for their ministries and work in the wider community," she said.
This project contributes to the college's core expenses such as study materials for students, staff salaries, travel and accommodation for visiting teachers, office rent, maintenance for two vehicles, insurance, electricity and telephone costs.
AU016WB needs $62,500 in 2018 (tax-deductible)
HOW TO DONATE
You can make an online donation to this project.

Alternatively, for donations by cheque/money order (made out to the Anglican Board of Mission – Australia), telephone or email, view contact details here. Please don't forget to include the project name and/or code with your payment details.
Gifts to ABM will be applied to the support of project(s) selected. In the unlikely event of the project being oversubscribed or not proceeding to completion, donations will be applied to a similar project to the one(s) selected.
Project Update
November 2017 – Kathryn Bellhouse was one of the pilgrims that visited Wontulp-Bi-Buya College, and afterwards wrote about her experiences and the inspirational people that she met. Read more.
October 2017 – ABM recently facilitated a pilgrimage for theological students from Trinity College Theological School, Melbourne and St Francis College, Brisbane to attend a two-week theology teaching block of Wontulp-Bi-Buya College, Cairns. Read more.
September 2016 – ABM Reconciliation Coordinator, Celia Kemp, visits Wontulp-Bi-Buya College. She recounts her impressions of this remarkable place, the passionate people who serve the college, and the strong mandate to support the Development of Australian Aboriginal and Torres Strait Islander church and community leaders. Read more.

From our partner
September 2016 – The Principal of Wontulp-Bi-Buya College, Rev'd Victor Joseph, speaks about the work of this unique theological institution.
< Back