ABM Archive Website
THIS WEBSITE CONTAINS ARCHIVE MATERIALS FOR HISTORICAL REFERENCE ONLY
For up-to-date information, including our latest appeals, news, and resources, please visit our current website.
Australia: Wontulp-Bi-Buya update
October 2017
Expanding Horizons
"God uses indigenous culture to remind the church of its true horizon: God." – Bishop Mark McDonald, Indigenous bishop of the Anglican Church of Canada at the Diocesan Conference in July.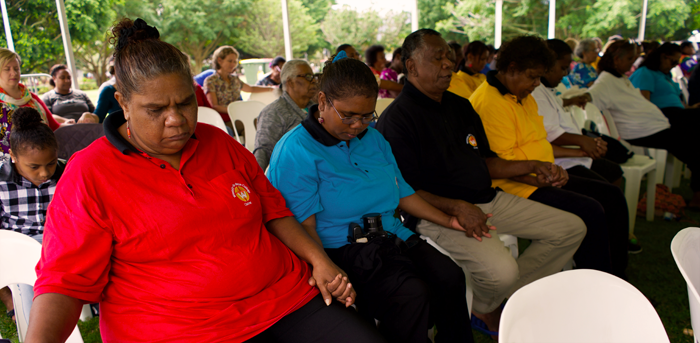 Wontulp-Bi-Buya College students pray together in Cairns.

© ABM/Chris Stead, 2017
In June/July this year the Anglican Board of Mission facilitated a pilgrimage for theological students from Trinity College Theological School, Melbourne and St Francis College, Brisbane to attend a two-week theology teaching block of Wontulp-Bi-Buya College, Cairns. The Revd Jazz Dow, Missioner for the Anglican Board of Mission, coordinated the trip and afterwards wrote about her experiences.
Wontulp-Bi-Buya is an indigenous college offering courses in theology, community development, suicide awareness, mental health, and addictions management for Aboriginal and Torres Strait Islander leaders from around Australia. The College also offers cultural awareness programs to non-indigenous peoples. The pilgrimage enabled cross-cultural theological collaboration between Aboriginal And Torres Strait Islander students and non-indigenous students, and was an opportunity for praxis-reflection based learning.
The words that continue to return to me regarding the experience on pilgrimage are, "hear what the Spirit is saying to the church." There was a major emphasis at the college on the work and presence of the Holy Spirit. Senior Student of Trinity College Theological School, Ben Petschel, said of his time at Wontulp-Bi-Buya:
"Such a deep, rich and earthy spirituality. I don't have words to explain the experience fully. 'Spirit-filled' just doesn't seem to do it justice. They really live in the Spirit!"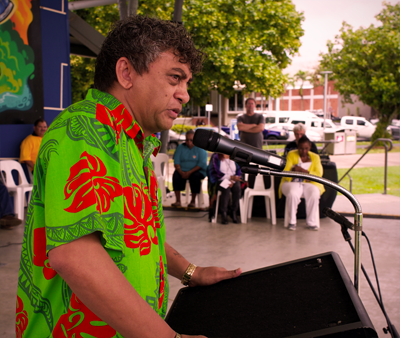 Rev'd Victor Joseph,

Principal of Wontulp-Bi-Buya College,

speaks at
to students beginning the new term.

© ABM/Chris Stead, 2017

The Spirit moved as we lived alongside, and heard stories from students who had travelled from Yarrabah, Moa Island, Utopia, Kalgoorlie, Lismore, and many other places around Australia. We experienced community at a deep level as we worshipped, studied, and ate together. In this community our horizons were stretched open, and the gospel was interpreted afresh to us – interpreted through the lens of what it is to be an indigenous Christian leader living in 21st century Australia. This interpretation carries perspectives that take land seriously, from contexts where climate change is imminently threatening peoples' livelihoods, and from communities dealing with the disastrous outcomes of Australia's policies towards Aboriginal and Torres Strait Islander people. We heard stories from students about the effects that suicide, grief, and stark inequality (to their non-indigenous counterparts) has on their communities.
Underlying these perspectives and stories that we heard was a deep faith that knew and trusted God's deep abiding presence in the midst of life's anxieties. For these students faith in God presents the possibility of liberation beyond the present reality and beyond human understanding. As we prayed with this community we experienced the enactment of God's liberation.
"The dedication of the students – traveling such a long way to engage with their learning is amazing, and doing that so that they can share and give back to their communities (and I grumble at an hour's drive into Uni) puts things into perspective
One student told me she came down with $5, because she spent all the money on food for her grand-kids before she left – wanting to make sure the pantry was full for them while she was away!" – Juliana Bate, Student, St Francis College
As our National Church resides in anxiety about its future, great hope, in the midst of real struggle, exists in the communities from which Wontulp-Bi-Buya's students come. These indigenous leaders are prophets in the church and it would do us well to hear what the Spirit is saying to the church through them.
"Indigenous wisdom helps us to uncover what modernity robbed us of," said Bishop Mark at the Diocesan conference. These words certainly resonated with our time on pilgrimage. The community of Wontulp had a wide horizon that seemed to stretch beyond the limits of time, beyond Christendom, modernity, or post-modernity. The institutional church will lose, and already has lost, a great deal of the power handed to it by Modernity. And yet, if we choose to hear the voices of the prophets in our midst, from the "gospel zone" (another expression from Bishop Mark), the church will come to reside in a power far beyond that awarded to it by any period of history. It will reside once again in the power of God's expansive horizon.
ABM would like to thank all of our generous donors who have supported the great work at Wontulp-Bi-Buya College. To learn more about Wontulp-Bi-Buya College, visit http://www.wontulp.qld.edu.au/