ABM Archive Website
THIS WEBSITE CONTAINS ARCHIVE MATERIALS FOR HISTORICAL REFERENCE ONLY
For up-to-date information, including our latest appeals, news, and resources, please visit our current website.
Australia: Wontulp-Bi-Buya update
November 2017
ABM recently organised a pilgrimage for theological students from Trinity College Theological School, Melbourne and St Francis College, Brisbane. The students visited Wontulp-Bi-Buya College, Cairns, and met with the staff and local students who were participating in a two-week theology teaching block.

Kathryn Bellhouse was among them, and afterwards wrote about her experiences of the trip and the inspirational people that she met.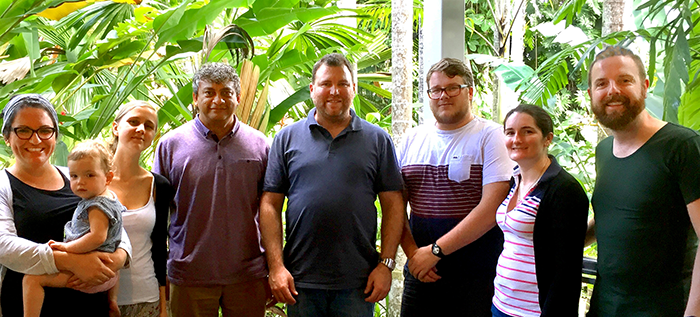 Theological students visit Wontulp Bi Buya, along with the ABM organiser Jazz Dow (pictured far left). Kathryn
Bellhouse is standing second from the left.

© ABM/Chris Stead, 2017
Pilgrimage Reflection by Kathryn Bellhouse
Four times a year, the students of Wontulp-Bi-Buya Aboriginal and Torres Strait Islander Theological College travel from all over Australia – islands in the Torres Strait, Yarrabah, Lismore, even Melbourne and Broome – to gather for two weeks in Cairns, QLD. Wontulp-Bi-Buya offers certificates and diplomas in addictions management, community development and indigenous mental health, and theology. The theological courses maintain a strong focus on indigenous contextual theology. Thinking about the place of scripture in the history of ancient Israel leads students to reflect upon the place of God in the lives and histories of first peoples of this nation. Each morning during the teaching period, the students put the skills they are developing into practice by leading one another in prayer, reflection and song.
In July 2017, I was lucky enough to join a couple of students from Trinity and St Francis Theological Colleges on a pilgrimage to Wontulp organised by ABM.
Studying, eating, and worshiping with Wontulp students, what struck me most were the subtle miracles that had lead the diverse faces of the college to gather together there.
When we met with the Reverend Victor Joseph, the Principle of the college, he explained that in two Torres Strait Islander languages (Meriam Mer and Kala Lagaw Ya/Kalaw Kawaw Ya), 'Bi' and 'Buya' mean light. 'Wontulp' is a mountain in far north Queensland, otherwise known as Mount White on the Cape York Peninsula. There is a traditional story of the Cape Keerweer people at Aayka and Aurukun, that this mountain moved from Cape Keerweer to Coen, speaking in local dreaming of the mountain moving toward the sea. Wontulp Bi-Buya, then, means the faith and light that move mountains.
Our trip coincided with NAIDOC week, a celebration of the history, culture and achievements of Aboriginal and Torres Strait Islander people, as well as the annual celebration on July 1st of the Coming of the Light to the Torres Strait Islands. The theme of NAIDOC week was 'language matters' and on the opening Saturday, the Wontulp students gathered onstage at a park in the city to perform a series of songs and dance. One student who came to Wontulp a few years ago to help with her reading and channelling her gift for intercession, stood up and delivered a powerful prayer for the chains of suicide to be broken from over her own and her brothers and sisters' communities. At a barbeque after the service, a few students were approached by some First Nations brothers and sisters who had been sitting behind a toilet block during the performance and listening. Many had family members going through tough times, and thanked the Wontulp students for prayers which had really spoken to them.
For some Wontulp students who left the Western school system in perhaps grade five or six, their strongest methods of communication are song, dance, visual art and spoken word. On one occasion I was lamenting with another student about the difficulty of translating spoken words – that depend so much on the inflection and that mean so much in the moment – into a written form that could live beyond it. She pointed out that the passages of scripture we were studying could have passed through generations of oral transmission before being written down. Another student from Wontulp turned to us and said, 'I know all about that – my daddy was a preacher.' She told us how after being raised on a mission, her mum and dad had managed to hold their family – fourteen children – together. Each Sunday her dad would gather them all in the lounge room, on the couches with blankets, he would pace up and down with a bible under his arm and preach the Word to them. Her brothers and sisters would be laughing, saying, 'What's he doing with that book, he can't read,' but it didn't matter—the way her dad spoke about resurrection faith has lived on in her many years on.
One night I was sitting with a student who, in the breaks between teaching blocks, goes out to the desert to complete his workbooks. They come back to his tutors filled with red dust. After a long day of classes, he and I were getting into all sorts of knots trying to explain what a covenant means in everyday language. For a while we were trying to explain the concept with reference to used-car exchange – something along the lines of, 'we promise to trust you, you promise to guide us' – but something about the analogy didn't feel right. Eventually he put the workbook aside and drew a series of pictures: two open arms facing and embracing each other (that was the covenant), then another where one set of arms turns away (as a people or a person strays), and then in the last picture the arms returned to an embrace. After that he found a fresh sheet of paper and drew a series of faint, chaotic lines that formed a globe. The lines were the lives of people wandering like ghosts, lost and misguided, until God's arms appeared on the periphery open to receive them. And then, the arms appeared again and again all around the edge of the paper, and he explained that no matter which way we turned, God would find a way to guide us home.
One night toward the end of the trip, I lay awake listening to a woman who, waiting for her laundry, was singing 'Jesus, just the mention of your name.' Since coming home, I can barely make it through a day without humming the chorus—
Jesus, just the mention of your name
Flowers grow, the desert blooms again
Like fire in winters cold
Like pure precious gold
Jesus, just the mention of your name
If you would like to donate towards Wontulp Bi-Buya College and support this vital, life-changing work, please click here.