ABM Archive Website
THIS WEBSITE CONTAINS ARCHIVE MATERIALS FOR HISTORICAL REFERENCE ONLY
For up-to-date information, including our latest appeals, news, and resources, please visit our current website.
Wontulp-Bi-Buya College update
September 2016
ABM Reconciliation Coordinator, Celia Kemp, recently visited Wontulp-Bi-Buya College to meet the Principal. She recounts her impressions of this remarkable place, the passionate people who serve the college, and the strong mandate to support the Development of Australian Aboriginal and Torres Strait Islander church and community leaders.
The Living Edge of the Church
A reflection by ABM Reconciliation Coordinator: Celia Kemp
Wontulp-Bi-Buya College in Cairns is named using Aboriginal and Torres Strait Islander words that refer to the faith that can move mountains, and the annual celebration of the Coming of the Light.
It is a rare thing, an institution set up to deliver courses in a culturally appropriate way to Aboriginal and Torres Strait Islander people.
I visited the College in August this year. As I read the 2016 Study Guide I found scattered amongst offerings familiar to any theology program, units such as:
Relate the Old Testament to Indigenous Christians
Relate Mark's Gospel to the local Indigenous context
Express a Australian Indigenous theology of land
Promote holistic health among Indigenous peoples
The Principal, the Rev'd Victor Joseph, told me the College helps students explore where God is in their life as an Aboriginal or a Torres Strait Islander person.
To do this it has to, of course, use many indigenous trainers, and material developed by indigenous people.
All the courses are written and designed by the College.
There are also Community Development courses in Addictions Management and Indigenous Mental Health (Suicide Prevention).
The Rev'd Victor Joseph says the College is "capturing a lost generation of students". For some it is a place of last resort. Students are not only given an education but helped to find pathways to further education or employment once they finish.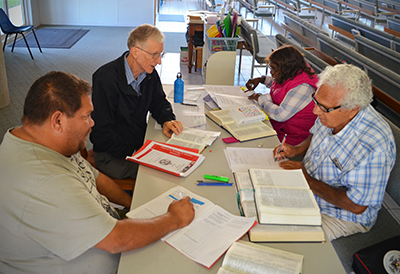 Wontulp Bi Buya students attend a class
121 students are enrolled in 2016.
This is all the more remarkable against the wider context where many indigenous young people are struggling and the broader Australian community is struggling to find ways forward for them.
Australian Indigenous policy has too often disempowered local aboriginal leaders in the face of programs and experts imposed from the outside. Wontulp- Bi-Buya goes against the stream. At every level it empowers Aboriginal and Torres Strait Islander church and community leaders.
I recently heard an Aboriginal academic from another denomination talk about the long history of money within his church being diverted away from indigenous people and indigenous causes. He said there was often good intent, but in the end the money went to where the main base was.
It made me wonder about us.
There is abundant goodwill towards indigenous people within the Anglican Church.
Still, I am studying theology at another, mostly whitefella college. I came away from Wontulp-Bi-Buya troubled by the very obvious disparity in resourcing.
Wontulp-Bi-Buya exists to do something vital for the future of the Australian Anglican church.
However it is doing it with inadequate and insecure funding.
The National Aboriginal and Torres Strait Islander Council invited the Rev'd Victor Joseph to present to them at their August 2016 Annual Gathering and were so moved by what they heard that they unanimously requested further support for the College.
I was similarly deeply moved by what I saw during my visit.
It isn't only empowering its students to lead in their own churches and communities.
The people and ideas that flow out of Wontulp-Bi-Buya will help broader Australian Anglicans answer vital questions like: Where is God leading in this place and this time? What does a truly Australian Anglican church look like?
I left Wontulp-Bi-Buya convinced that it is the living edge of the church.