ABM Archive Website
THIS WEBSITE CONTAINS ARCHIVE MATERIALS FOR HISTORICAL REFERENCE ONLY
For up-to-date information, including our latest appeals, news, and resources, please visit our current website.
China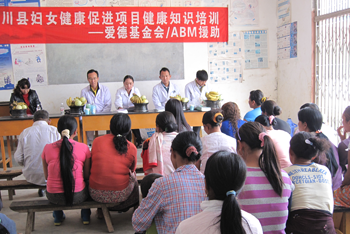 Ethnic Women's Health project in China. © ABM/Amity 2011
The Australian Anglican Church has historical links with China – missionaries from Sydney and Melbourne dioceses, among others, went to China as part of the China Inland Mission. Following in this tradition, ABM began working with the Amity Foundation in 2010. When ABM was first introduced to this partner by the National Council of Churches in Australia, we were very impressed with their professionalism and dedication to helping those in great need in their country.
One of the things that people outside of China find most surprising about Amity is how well they work with the government, particularly at regional and local levels. What Amity is doing is actually building the capacity of the local government to deliver services to their communities in a participatory and responsive way, rather than mandating things from the centre. In the area of community health, this participatory approach is proving extremely successful. The local government officials are very appreciative of what they are learning from Amity's approach to community development.
Over a three year period, ABM funded the Ethnic Women's Health project, managed by Amity, which was aimed at improving the health of women in rural areas of China. The project enabled the training of community health workers from inside the ethnic communities who then set up women's committees and provided training for women in general health information. Women received complete physical health check-ups, in most cases the first they ever had. Plumbed toilets were installed in communities and regular health publicity activities in marketplaces were held to increase community health awareness.
This year, ABM continues to work with Amity to fund a community-based health project aimed at improving the lives of people living with HIV in Yunnan Province.
2015 Project in China
HIV Prevention and Health Care Promotion project
Video postcard from China
ABM's Education Missioner, Brad Chapman, speaks about his visit to China and his first encounter with The Amity Foundation, an inspiring Christian Non Government Organisation.
You can also view Amity Foundation's video Love Never Ends (in celebration of their 25th Anniversary) on our YouTube channel.
STORIES FROM THE FIELD
| | |
| --- | --- |
| | Dr Julianne Stewart tells about her visit to the Amity Foundation in China and ABM's project. |