ABM Archive Website
THIS WEBSITE CONTAINS ARCHIVE MATERIALS FOR HISTORICAL REFERENCE ONLY
For up-to-date information, including our latest appeals, news, and resources, please visit our current website.
A Visit to De Ang Village in China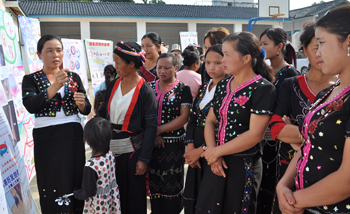 A health worker talks to ethnic women. © ABM/Ivy Wang 2011
Ivy Wang, ABM's Business Manager, recently accompanied Lina Magallanes, our South East Asia Program Coordinator, on her first monitoring trip for a new project in China, the Ethnic Women's Health Program.
It was a beautiful spring morning when we visited ABM's women's health project in a little village in Lung Chuan County, in the southern part of Yunnan province. At least half of China's ethnic minority people can be found in this province. Despite China's phenomenal economic development for the last twenty years, there are still large portions of the population who live below the poverty line, especially in the western area of China.
The people we visited on this morning are De Ang minority. This is one of the smallest ethnic minority people in Yu Nan. As we got out of the car, the village women with their best traditional dress were already standing in two lines, some of them with a bowl of water in hand. We didn't even have the time to realize what was happening, as water was being splashed at us, accompanied by the sound of traditional music instruments. Apparently, a week before our visit, it was the annual water festival. So everyone was still in a party mood. What a welcome!
De Ang village is one of the poorest villages in Lung Chuan County. ABM's project provided women with a basic health check, something which these women have never done before in their life. The project also provided basic training to the village health workers and volunteers on gynaecological illness
prevention and treatment and other health care knowledge.
The women were very shy initially, but after some encouragement, they spoke out on how the project had benefited them, especially in their self confidence and self awareness. It was reassuring to hear their soft but steady voices and to see their beautiful smiles when they described how much they appreciated the health check and trainings.
We asked what was on their wish list for next year, if the project were to continue. Their voices were still soft and shy but firmly they said that they wanted to learn to read and write. I didn't know until then that most of these women were illiterate. How hard it must be for them to try to improve their lives without knowing how to read and write.
I was very touched by their humble request. I saw longing and eagerness in their eyes. It made me wonder what more could be done to help these women, all deserving of the same rights as me, to realize their dream for education.
Ivy Wang
Business Manager
April 2011
‹ Back