ABM Archive Website
THIS WEBSITE CONTAINS ARCHIVE MATERIALS FOR HISTORICAL REFERENCE ONLY
For up-to-date information, including our latest appeals, news, and resources, please visit our current website.
Amity Foundation Roundtable & the 100 Millionth Bible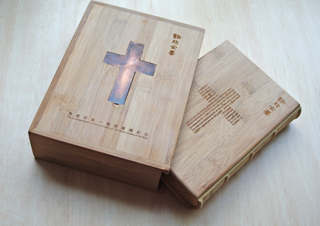 A gift received from Amity to commemorate the printing
of the 100th millionth Bible.
In November 2012, the Revd John Deane, ABM's Executive Director, was invited by the Amity Foundation in China to attend a Partner Roundtable which is held every three years with all its funding partners. It was a very good occasion as they were also celebrating the printing of the 100 millionth Bible by Amity Press, the world's largest Bible printing press. ABM was privileged to have been presented with a special edition Bible to commemorate the event.
The Roundtable went for two days in Nanjing and was well structured. Amity presented a reflection on what they had been doing, and also talked about their vision for the future. They talked about the growth in China; the growth of the Church in China; the growth of the desire by the government and sections of society for there to be greater social service and greater outreach. Also the desire by the Chinese government to see what they call 'harmony' is present in society and to recognise that the Church does have a role in actually having a harmonious society.
Revd Deane had the opportunity to meet their European partners, of whom they have a number, and one or two from different parts of Asia. It was also an opportunity to meet people from the Bible Society that use the Amity Printing Press to produce the Bibles that now go out around the world.
Amity had also asked Revd Deane to run training workshops on how to create and maintain a healthy NGO. This gave him a chance to meet with small fledgling NGOs and civil society organisations to get a sense of what they were doing. These were very diverse ranging from sporting associations to caring for people with disabilities. One group wanted to promote traditional Chinese boxing as a way of maintaining health into old age, and another encouraged elderly people to go cycling. It was fascinating to talk to them about what they saw civil society as being, and how the government in China was encouraging them to grow.
Amity has assisted the Chinese government in terms of assessing what are the features of a good, transparent, accountable NGO, how to provide funding and on a whole range of things that it has experience with from its own engagement with partners. It seemed a very good time for Amity to be involved.
Revd Deane says, "ABM might be able to help that conversation because Australia is certainly one of the more regulated nations in terms of NGOs and charitable organisations, and so there's a lot to learn about what to do and what not to do that comes out of the Australian experience."
What he found impressive about Amity was their growth, having grown from a fairly small number of staff, about the size of ABM's, in just over three years to more than seventy.
This is partially to do with their need to do more work with emergency relief. A lot of it is largely due to their involvement with local NGOs and civil society organisations, which is part of the program that they have been running for the government. They are working to try and build up the capacities of society to provide services to the community.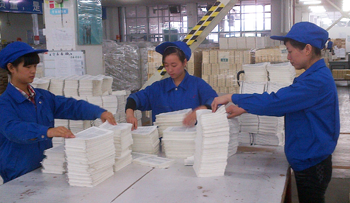 Production of Bibles at Amity Press.
Revd Deane travelled with Amity, meeting staff and became aware of the high level of capacity there is amongst them. As NGO and development work is relatively new to China, many of them have skills but not a lot of practical experience. Their mode of working as a funding partner for other local NGOs that may exist within a community or a region is a bit like the way ABM works with its partners. It seemed to him there were some possibilities of doing some joint learning with them on things like design and evaluation.
He was able to visit some pastors from the Christian Church of China and the China Christian Council. Revd Deane was introduced to a staff member of the Religious Affairs Bureau that looks after dealings with the Church and government in that area. Their conversation about Christianity and harmony gave him an insight into how the government viewed working with the Church and how the Church is finding ways to interact with them. As the government becomes less suspicious of the Church in terms of challenging government authority, he thinks there is a greater confidence that the relationship could be a truly harmonious partnership.
He was shown some substantial church buildings in Nantong, outside of Nanjing where Amity is based. In that local area, there were 40 churches of the China Christian Council. He then visited Kunshan where there were fewer churches, but the government was actually supporting the action of the Church there to reclaim some of its land that had been taken many years ago, and to help replace the buildings. There were quite spectacular designs of new churches in the pipeline.
It reminded him quite a lot of how the Anglican Church, certainly in the UK, has been in its past as an established church which has strong links with government.
"There have been both people who have been advocates of that model and those opposed to that model of working, but it is clearly a model that the Church has been familiar with. It doesn't surprise me that this has re-emerged in the China context." he says.
"I'm amazed at the scale of how things happen in China; so many people and so many buildings and how rapidly it's expanding. Christianity is also growing at a rapid rate with people saying it has hit more than the 200 millionth mark, which is a phenomenal number of Christians and the impact on global Christianity in years to come is going to be significant."
"As Christianity awakens again in China and grows, there is a real sense of trying to understand what it means to be the Christian Church in China. Questions of how does the Gospel acculturates China and what does Chinese culture actually have to say to Christianity become quite important in some of the conversations that are going on."
It was a fascinating trip which Revd Deane was glad to have made and he looks forward to the next Partner Roundtable in three years time. Meanwhile ABM and Amity will discuss the possibility of developing more partnering between the two organisations, such as short staff placements and joint learning opportunities.
< Back