ABM Archive Website
THIS WEBSITE CONTAINS ARCHIVE MATERIALS FOR HISTORICAL REFERENCE ONLY
For up-to-date information, including our latest appeals, news, and resources, please visit our current website.
China:Community-based HIV Prevention and Health Care Promotion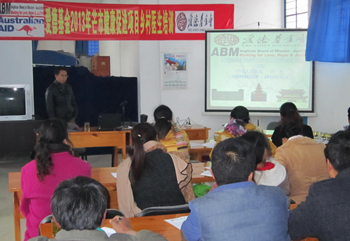 Training for rural health workers. © ABM/Isabel Robinson 2014
In China, ABM's Partner, The Amity Foundation, is working to build awareness of health care in local communities and through this work, aiming to prevent HIV and AIDS.
The project supports people in rural areas and works to improve the livelihoods of People Living with HIV (PLHIV), decrease community stigma towards them and improve the capacity of local health workers.
One of the people ABM is helping through this project is Xiao Ye*, a member of Padi Village's performance team.
Xiao Ye is now happy to be a part of the performance team, but previously she went through a heavy, dark time. How did she survive that time? How has her life changed?
Xiao Ye was infected with HIV in 2011 and at that time people around her, including her family, wouldn't talk to her and she started to feel isolated. She said she could feel other people looking at her weirdly. She locked herself at home because she worried about people seeing her and judging her.
In 2013 Xiao Ye became aware of the work of Amity Foundation and how it might support her. Her health worker told her about a program that supported HIV-infected villagers connect with others and undertake activities together.
"I was a little confused", she said. "I couldn't imagine what the HIV-infected group was doing or how they were managing to visit other communities."
However, she started to feel more comfortable when she saw that many people were in her situation, spoke to the other villagers, and heard from the head of the Amity Project Office.
"Being involved with this group is the first time I felt happy and warm since I got infected," said Xiao Ye.
Group members' connection with each other strengthened as they started to work together, and some other noninfected villagers also took part in group activities to educate the broader community on HIV and AIDS.
The group was encouraged and decided to organise a performance team. When there are events in the village, the group likes to perform traditional Dai dancing and singing. Xiao Ye said she likes dancing, and the group now has the confidence and passion to perform, as long as villagers like it!
Amity staff tell ABM, "It is a huge step for Xiao Ye to join the group and just go outside. Without this program, she and other HIV infected villagers would still be stuck at home suffering the effects of both physical and mental debilitation."
"In this case, we just provide a chance for people to gather together, to get to know each other, and to understand the health issues. They can then make their own decisions on what they would like to do," the staff member said.
You can help change attitudes to people living with HIV and promote community awareness in regional communities in China by giving to this tax-deductible project.
(*Names have been changed.)
CN001VH – The Community-based HIV Prevention and Health Care Promotion project needs $112,981 in 2015
HOW TO DONATE
You can make an online donation to this project by selecting China: Community-based HIV Prevention from the full project list.
Alternatively, for donations by cheque/money order (made out to the Anglican Board of Mission – Australia), telephone or email, view contact details here. Please don't forget to include the project name and/or code with your payment details.
Project Update
March 2015 – This update comes from Fengping Township, Yunnan Province, where there is an increasingly high HIV-infected population. Progress is being made through the many activities and training workshops implemented by the Amity Foundation. Read more.
Women's Health Project in Western China – Amity
ABM and Episcopal Relief and Development have supported The Amity Foundation to implement a Health and Community Development Project in Yunnan Province, Western China.
< Back