ABM Archive Website
THIS WEBSITE CONTAINS ARCHIVE MATERIALS FOR HISTORICAL REFERENCE ONLY
For up-to-date information, including our latest appeals, news, and resources, please visit our current website.
Activities and training in Fengping Township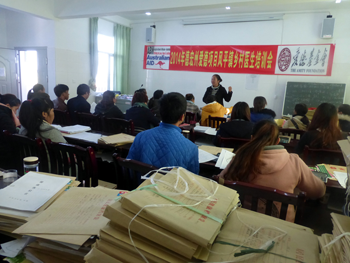 Health Worker Training in Fengping Township.
The care and support group for People Living with HIV/AIDS (PLWHA) in Fengping Township, Yunnan Province has added two members over the last six months, bringing the group to 30 members.
Fengping Township is located in Mangshi and has an increasingly high HIV-infected population. The care and support group provides a supportive platform where activities and training take place, coordinated by ABM's partner The Amity Foundation as part of the Community-Based HIV Prevention and Healthcare Project.
The group provides a safe space in which HIV-infected villagers can talk with each other, understand health issues, and organise community activities to educate villagers about HIV and AIDS. Recently, the group members have organised a total of 32 activities which have taken place in the centre of Pabie and Padi (rural minority communities) in Fengping Township. These activities include basic health services training, performances promoting drug prohibition and responsible lifestyles, and HIV/AIDS education, all contributing to decreasing community stigma towards PLWHA and promoting access to treatment for PLWHA. Alongside group activities, the local project office is seeking to improve income generation for PLWHA and had 65 villagers participate in a training session on cow raising.
The project also aims to provide better access to health services for PLWHA by improving the capacity of health workers. In the local project office, a training recently took place for 51 local village health workers which focused on increasing skills and knowledge to assist PLWHA. There have been a further eight sessions conducted in the topic of general health service, where over 400 health workers participated. Local health workers are advocates alongside many community members who are working to change community attitudes and awareness of services for PLWHA.
Health Workers in class.
< Back