ABM Archive Website
THIS WEBSITE CONTAINS ARCHIVE MATERIALS FOR HISTORICAL REFERENCE ONLY
For up-to-date information, including our latest appeals, news, and resources, please visit our current website.
Syria: Emergency Appeal Update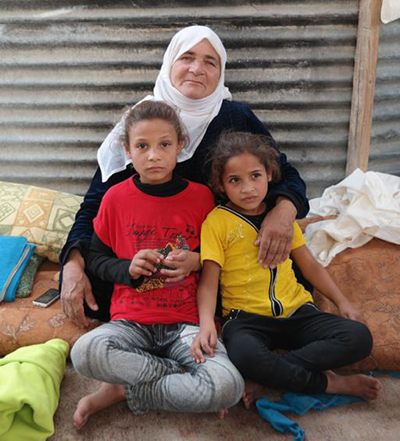 Two young girls sit with their grandmother in a shelter in Za'atari
camp. Photo credit: LWF Jordan/D. Odén
February 2017
The crisis in Syria is approaching its sixth year in March 2017. The violence has brought death and destruction to Syria, forcing millions of people to abandon their homes or flee the country. Many of them are children. Around 6.3 million people are displaced inside Syria, 5 million people live in besieged cities and hard-to-reach areas, and 4.8 million refugees live in the neighbouring countries and beyond.
Through the ACT Alliance, ABM has supported the humanitarian relief activities of ACT member organisations in the region since 2013. These organisations have done an incredible job, among them the Lutheran World Federation who alone coordinated more than $7 million in aid, assisting over 337,000 people during the last six years of the crisis.
An important part of the work of the Lutheran World Federation is the psychosocial support given to children. Below is the story of Layla, one of the beneficiaries of this program, which was published on the ACT Alliance website in 2016.
Finding a Peace Oasis
I was very sad to leave my country, but we came here looking for safety," 11-year-old Layla says. "We thought going away was only for three months. We didn't take anything, as the journey was long and dangerous, and now we are not able to go back."
Layla is one of the 300 children and youth currently taking part in ACT Alliance member Lutheran World Federation's (LWF) psychosocial support program in the Za'atari refugee camp, Jordan. In its psychosocial support centre, the "Peace Oasis", LWF works with children and youth between the ages of seven and 18 years.
"Many children were subjected to violence in Syria, and now have a very difficult life in the camp," Rachel Luce, LWF Country Director in Jordan, says. "We work with them on communication skills, stress management, conflict resolution and peace. The main objective is to give them means to cope with their situation in the camp."
Post-traumatic stress and nightmares
The Za'atari refugee camp was established in 2012. One of the largest refugee camps in the world, it is home to about 80,000 Syrian refugees who fled the civil war in their home country. As the conflict in going into its sixth year, the refugees waiting in the desert have reached their limits.
"The children have trouble sleeping, anxiety and eating disorders. Many of them show symptoms of post-traumatic stress disorder. We see depressed children, feelings of isolation and in others, aggression," Maria de la Guardia, LWF communications consultant says. The story of Layla and her family is but one of many similar that the LWF staff in the camp encounter every day.
In the early days of the Syrian civil war, Layla lost her father. He worked for the military and did not return from work one day. To this day, the family does not know what happened to him. "Some people told me he had died, some say he was in prison," her mother Maryam says. She suddenly had to care for 11 children all by herself.
"It was not easy for the children to lose their father. He was a good man whom they loved and respected," she says. "For two years, one of my daughters was in shock and did not talk to anyone. She would cry all the time, asking where he was. Everyone was nervous, everyone was anxious. The children were angry, fighting among themselves."
The family found a new home in Za'atari camp, but for the children, their home in Syria and the Syrian civil war are still part of everyday life. They keep in contact with their friends who remained in Syria through social media.
"When I see their pictures, I feel bad, and when I talk to them I want to go back" 11-year old Layla says. "They all live in bad conditions, but I should be there. My friends tell me of shootings and bombings. I feel guilty and I wonder why I am here and they must endure all of that."
Hopes for the future
Layla and her siblings are taking part in the LWF program now. She herself already finds that she feels better after attending a few sessions. "Many things make me angry all the time," she says. "It is easy to become upset, to scream and shout. I hope the course helps me to learn how to manage my anger."
Sometimes she tries to imagine the life of other children, who are lucky to live in peace. "Those children live in good conditions, but before the crisis, we did too," she says. "Our life was happy. We were no different."
Since the beginning of the conflicts, the LWF has assisted refugees from the Syrian war and the Iraqi crisis accommodated in host communities and in camps. In the period 2015 – 2017, LWF plans to continue providing protection, shelter, education, basic relief goods, water and sanitation within Zaatari camp and in host communities. In addition LWF has initiated a Cash Assistance project targeting 454 households, and two 4-year education projects beginning in January 2016 to rehabilitate schools in Irbid and Amman Governorate to improve the physical and psychosocial environment for girls and boys attending the selected public schools.
With contributions by Maria de la Guardia, LWF Jordan. All names in the story have been changed. You can read the whole story here http://actalliance.org/about/member-news/6-years-conflict-in-syria-psychosocial-support-to-refugees/
ABM would like to thank everyone who generously gave toward the Syrian appeal. As this appeal is ongoing and critical, we urge you to continue supporting the good work of ACT Alliance member organisations like the Lutheran World Federation, providing critical assistance to children and families throughout the region. To donate now, please click here.