ABM Archive Website
THIS WEBSITE CONTAINS ARCHIVE MATERIALS FOR HISTORICAL REFERENCE ONLY
For up-to-date information, including our latest appeals, news, and resources, please visit our current website.
2016 Solomon Islands Flood update
August 2016
When heavy rain and flash flooding destroyed homes in the Solomon Islands in April 2014, ABM responded. Emergency funding was sent to provide immediate relief for the many families left homeless, ensuring there was enough food, clothing and shelter for those in need. Funds were also sent to assist in the longer-term effort to rebuild homes and lives, with all the complexities that this involves.
ABM have recently recieved a media release, complied by our partner in the Solomons, the Anglican Church of Melanesia. It reveals just one aspect of the rehabilitation efforts being undertaken: the provision of tanks for clean water. In a country that is often exposed to cyclones and flooding, these tanks are an invaluable asset, ensuring a consistant supply of clean drinking water when other sources become contaminated.
Here is the media release in full;
ACOM DISASTER DONATE WATER TANKS TO DISASTER AFFECTED AREAS.
By: Aldrine Peloko (ACoM Media), published in Island Sun Newspaper, 5th August 2016 and Solomon Island Broadcasting Corporation (SIBC)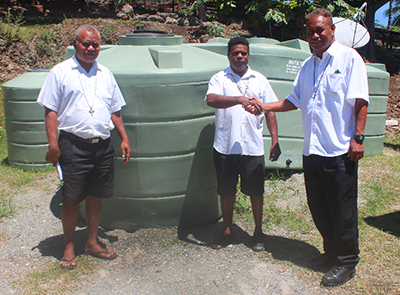 From right to left; Fr. George Elo (ACoM Mission Secretary), Fr. Philip
Rongotha (Vicar General) and Fr. Davidson Ngwaeramo (Dean of St
Barnabas Provincial Cathedral)
The Anglican Church of Melanesia Provincial Disaster Committee on Tuesday handed over eight Water tanks to the Diocese of Central Melanesia (DOCM) disaster committee.
The Mission Secretary of the Anglican Church of Melanesia and Chairman of the ACoM Disater Committee, Reverend Fr. George Elo, handed over five 3000 litres and three 2000 litres of Rotomould water tanks to the Vicar General of the Diocese of Central Melanesia (DOCM) Reverend Fr. Philip Rongotha and the Dean of Saint Barnabas Provincial Cathedral the Very Reverend Davidson Ngwaeramo on behalf of the recipients.
Provincial Disaster Committee in their meeting on Tuesday (23rd August 2016) agreed to distribute the water tanks to the following affected areas and stations that continuously experience water problems: two 3000litres and two 2000 litres to April Valley Church residents, one 3000 litres to Christian Care Centre, one 3000 litres to Sisters of Melanesia at Veranaso, one 3000 litres to Taroaniara Station and one 2000 litres to Saint Clare's Clinic also at Taroniara. Other materials such as gartering and cement for raised floor will also be provided after the recipients have identified the location for their water tanks.
This is part of the continuing rehabilitation exercises the Provincial ACOM disaster committee is rolling out in the dioceses and part of the Church's strategy to addressing food and water security in the local communities.

ACOM would like to thank her mission partners both in Solomon Islands and Overseas and dioceses, parishioners, businesses, families and individuals who have responded to the Easter ACOM Disaster Envelope appeal.
< Back