ABM Archive Website
THIS WEBSITE CONTAINS ARCHIVE MATERIALS FOR HISTORICAL REFERENCE ONLY
For up-to-date information, including our latest appeals, news, and resources, please visit our current website.
Pacific El Nino Initial Response
02/11/2015 – Many of ABM's supporters are aware of the El Nino weather condition that has been affecting parts of Australia and also much of the South Western Pacific in recent months. This has already brought drought declarations in much of Eastern Australia.
Among ABM's partner churches in Papua New Guinea (PNG), Solomon Islands and Vanuatu, significant parts of each country have experienced critical water shortages and failed food crops over the last few months.
In PNG the situation is currently most severe in the Highlands Region, but has also affected other parts of the country, including many areas where the Anglican Church is located. Problems include lack of water, higher than average daytime temperatures, bush and grass fires, insect infestation and colder than average night-time temperatures causing frosts. These impacts are anticipated to extend well into the new-year until communities are able to plant new gardens which will take 3-6 months before they yield a harvest.
In the Solomon Islands, the government is closely monitoring the situation. Water shortages and some food crop failures have been reported, especially in the southern part of the country, and in Vanuatu, the government has been responding to severe water shortages in some areas for the past month or so.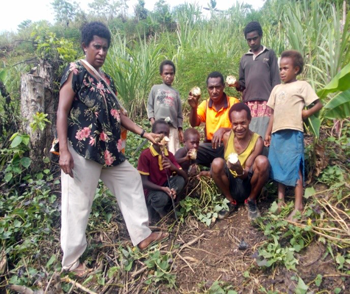 Students and family with failed crops at Kerina. ©ACPNG 2015
ABM is working with its Anglican partners in the Pacific (The Anglican Church of PNG and The Anglican Church of Melanesia) as they decide how they can best respond to this growing emergency situation. Measures so far include close monitoring of the situation, networking with other churches, NGOs and governments, and assessing capacity to respond, as well as seeking donor support from within each country. ABM and our partners want to ensure relief efforts reach those most in need and minimise duplication by utilising the existing strengths within the church institutions, building on local community resilience, supporting local responses and working through existing partnerships.
Thus far, ABM has been asked by Archbishop Clyde, Primate of the Anglican Church of PNG to assist with short term food and water relief in some areas. ABM has already made some funds available, but would like to raise $20,000 at this stage to supplement what has been raised locally. This amount may increase if needs become greater.
Any funds raised in excess of what is actually needed will be used to build Disaster Response capacity and to prepare communities to be more prepared and resilient in the face of future disasters (ABM's Global Disaster Preparedness Fund).
Click here to view External News Reports
< Back