ABM Archive Website
THIS WEBSITE CONTAINS ARCHIVE MATERIALS FOR HISTORICAL REFERENCE ONLY
For up-to-date information, including our latest appeals, news, and resources, please visit our current website.
ABM helps Tongans recover from Cyclone Gita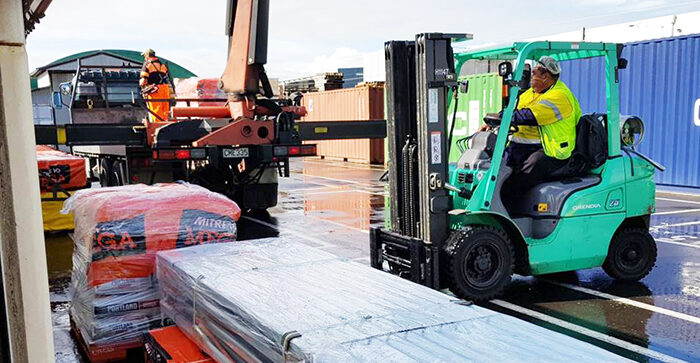 Loading supplies into the shipping containers. © Anglican Missions New Zealand. Used with permission.
July 2018
You may recall Cyclone Gita, which wreaked havoc in Tonga in February 2018. Classed as the most severe storm to hit Tonga in over 60 years, Cyclone Gita caused 2 fatalities and destroyed at least 171 houses. It flattened Tonga's 100-year-old parliament building and devastated Tonga's agriculture and tourism industries.
Tonga is steadily recovering and will be better prepared for the next disaster. This is with assistance from the Anglican Diocese of Polynesia, supported by AUD $10,000 from ABM. ABM's funds have gone towards shipping two containers of equipment and materials to Tonga. One of the containers is a fully-equipped carpentry workshop. The recovery program will provide carpentry lessons to locals so they can continue rebuilding damaged buildings and can have new skills ready for the next disaster. Funds have also been set aside to purchase and install three water tanks in Anglican churches that are likely to be used as evacuation centres in future emergencies, and to provide further disaster preparedness training for young Anglican leaders.
With the two containers arriving in Tonga last week, ABM expresses thank you to our generous supporters and best wishes to the Anglican Diocese of Polynesia and those with whom the diocese is working.
< Back